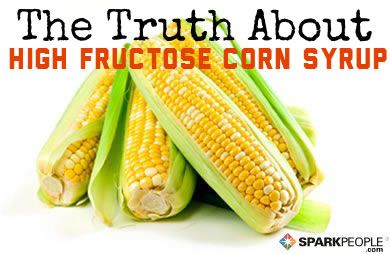 Is there something unique about high fructose corn syrup (HFCS) that could lead to weight gain or health problems? Does your body really know the difference between corn syrup, sugar and other sweeteners? That may depend on who you ask. Some people think it's different and prefer to avoid it. Others say that it's no different than other sugars, but we should be limiting our intake of all sugars anyway. So either way, most people think it's good to cut back on all sweeteners, regardless of type.

I once believed that HFCS was different, and therefore a key player in the obesity crisis. But after reviewing the published, peer-reviewed scientific research on HFCS, today my view is different. Read on to find out whether high fructose corn syrup deserves its bad rap and how it really compares with regular sugar.

What is High Fructose Corn Syrup?
High fructose corn syrup (HFCS) is a calorie-providing sweetener used to sweeten foods and beverages, particularly processed and store-bought foods. It is made by an enzymatic process from glucose syrup that is derived from corn. A relatively new food ingredient, it was first produced in Japan in the late 1960s, then entered the American food supply system in the early 1970s. HFCS is a desirable food ingredient for food manufacturers because it is equally as sweet as table sugar, blends well with other foods, helps foods to maintain a longer shelf life, and is less expensive (due to government subsidies on corn) than other sweeteners. It can be found in a variety of food products including soft drinks, salad dressings, ketchup, jams, sauces, ice cream and even bread.

There are two types of high fructose corn syrup found in foods today:
HFCS-55 (the main form used in soft drinks) contains 55% fructose and 45% glucose.
HFCS-42 (the main form used in canned fruit in syrup, ice cream, desserts, and baked goods) contains 42% fructose and 58% glucose.
Sugar & High Fructose Corn Syrup
Table sugar (also called sucrose) and HFCS both consist of two simple sugars: fructose and glucose. The proportion of fructose and glucose in HFCS is basically the same ratio as table sugar, which is made of 50% fructose and 50% glucose. Both sweeteners contain the same number of calories (4 calories per gram).

But the fructose and glucose in table sugar are chemically bonded together, and the body must first digest sugar to break these bonds before the body can absorb the fructose and glucose into the bloodstream. In contrast, the fructose and glucose found in HFCS are merely blended together, which means it doesn't need to be digested before it is metabolized and absorbed into the bloodstream. Because of this, theories abound that HFCS has a greater impact on blood glucose levels than regular sugar (sucrose). However, research has shown that there are no significant differences between HFCS and sugar (sucrose) when it comes to the production of insulin, leptin (a hormone that regulates body weight and metabolism), ghrelin (the "hunger" hormone), or the changes in blood glucose levels. In addition, satiety studies done on HFCS and sugar (sucrose) have found no difference in appetite regulation, feelings of fullness, or short-term energy intake. How can that be?

Well, the body digests table sugar very rapidly, too. And both HFCS and table sugar (sucrose) enter the bloodstream as glucose and fructose—the metabolism of which is identical. There is no significant difference in the overall rate of absorption between table sugar and HFCS, which explains why these two sweeteners have virtually the same effects on the body.

HFCS and Obesity
HFCS hit the food industry in the late 1970s, right when the waistlines of many Americans began to expand. During this time, many diet and activity factors where changing in society. It is a well-researched fact that the current obesity crisis is very much a multi-faceted problem. The American Medical Association (AMA) has extensively examined the available research on HFCS and obesity. This organization has publicly stated that, to date, there is nothing unique about HFCS that causes obesity. It does not appear to contribute more to obesity than any other type of caloric sweetener. However, the AMA does encourage more research on this topic.

Continued ›
Article created on: 8/26/2009