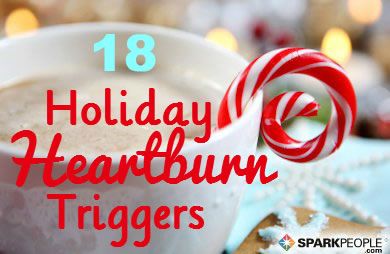 From the beginning of October to the end of December, we encounter a host of holiday eating occasions from Halloween to Thanksgiving to Hanukkah to Christmas to New Year's Eve. Whew, that's a lot of food! Besides being a risky time for anyone trying to manage their weight, this time of year is particularly tricky for people dealing with GERD or heartburn issues. Why? Because many seasonal favorites that sound comforting and delicious are actually serious heartburn triggers that can turn a fun family gathering into painful, sleepless evening.

Here are 18 of the worst holiday culprits that can cause heartburn—along with suggestions for alternatives that you won't regret later.


18 Holiday Heartburn Trigger Foods


Chocolate Halloween Candy


✘

It may be tempting to raid your kids' candy hauls, but avoid the chocolate, which is a known heartburn trigger.


✔

There are no great substitutes for chocolate, but a few butterscotch candies might scratch the itch.

Gravy


✘

An overcooked turkey can be saved by delicious gravy, but your stomach might repay the favor with heartburn.


✔

Opt for a lighter meat jus or skip the gravy and savor the flavor of smoked turkey, which often doesn't need the garnish of gravy or sauces.

Sausage Stuffing


✘

Yes, it's delicious, but the high fat content in the sausage will make you regret this dish quickly.


✔

Try a mushroom stuffing that's not too heavy on the onions and garlic instead.

Cranberry Sauce


✘

Sorry, this Thanksgiving favorite is highly acidic.


✔

If you find cranberries to be a heartburn trigger food, substitute with a Waldorf salad using yogurt or lowfat mayo.

Green-Bean Casserole


✘

Even though it might be part of family tradition, this dish typically includes heartburn inducing onions and can be high in fat.


✔

Try a lower-fat casserole recipe and skip or cut back on the onions to make this dish more heartburn friendly.

Apple Pie (or Pumpkin Pie) a la Mode


✘

In this scenario it's the ice cream and high-fat crust that will cause the burn.


✔

Skip the ice cream topping and enjoy the fresh flavor of the apples or pumpkin on its own. Go for a single crust pie or top lightly with a lowfat oatmeal crumb topping. Reduce fat even more by not eating the back edge of the crust.


Continued ›
Article created on: 5/8/2013