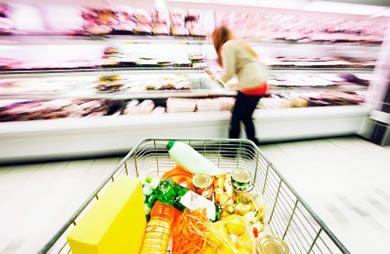 Pop quiz: Which is better: filet or prime rib? Which is leaner: ground turkey breast or lean ground beef? If you're trying to cut calories or just plain eat healthier, navigating the meat section at your local grocery store can be just as confusing as decoding a nutrition label!

For those who eat it, meat provides protein and other nutrients, too, including iron, thiamine, and zinc. But many sources of meat can also be high in fat, especially saturated fat, which has been linked to high cholesterol and heart disease. And any food that is high in fat is also higher in calories, which can make it tough to reach your weight management goals. To assist consumers in meat selection, the government developed the following definitions, based on a cooked, 3-ounce portion of meat.

Extra lean meat contains less than 5 grams of total fat and less than 2 grams of saturated fat.
Lean meat contains less than 10 grams of total fat and less than 4.5 grams of saturated fat.

This guide will help you to navigate the meat department and make the best choices for health, calories, and flavor.
Continued ›
Article created on: 2/15/2012