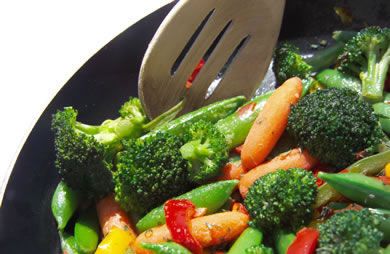 What do you think of when you read the words "stir fry"? Chinese food? A wok? Chopsticks, perhaps?

While none of those ideas are inconsistent with stir-frying, this cooking technique actually extends well beyond Asian cuisine. The method did originate with Chinese cooking, but it involves cooking any kind of food in a very hot pan with a little oil.

In fact, that same technique applies well to cuisines of all kinds. Cooking diced zucchini quickly over high heat, adding garlic and then tossing with whole-wheat pasta is as much a stir-fry dish as veggies over rice is. Stir frying is an incredibly versatile cooking method for any healthy eater because:

It works well with meats, tofu, and vegetables.
It's fast, which means you can put together a dinner quickly.
It helps you add more healthful veggies to your meals.
We'll start with a look at the technique, and then move on to explore some great stir-fry recipes—from Asia and beyond.

Basic Stir-Fry Cooking
A wok—a large, round-bottomed steel pan—is the traditional vessel for making stir-fry because its curved shape and high sides help prevent food from sticking, surround its contents with heat, and allow easy stirring. Cast-iron or steel are preferred materials for woks, because the pans need to get quite hot. Learn more about the healthiest cookware options.

A traditional stir fry uses very little oil, which makes it a pretty healthy cooking method. So to prevent food from sticking, steel or iron woks need to be well-seasoned. (My mother's 1970s vintage steel wok is a thing of beauty after decades of regular use.) Follow the manufacturer's instructions to season a new pan, and give it just a rinse and a dry to keep oils on the surface. Never, ever, run your seasoned pans through the dishwasher! If you don't have a wok, a large, heavy sauté pan will do the trick.

Traditional Chinese stir-fry cooking calls for heating the pan over a high flame, then adding a small amount (about a tablespoon) of oil; canola or grapeseed oils are preferred, as both withstand higher temperatures and have a more neutral flavor than olive oil. Aromatics like peeled gingerroot or garlic (often whole or in large slices, to be removed before serving) go in next to flavor the oil, and then meats and veggies in succession. Often, the dish is finished with a sauce, like a mix of soy sauce, hoisin and cornstarch for thickening. And everything gets scooped out and served over rice. (Choose whole-grain brown rice for a delicious, nutty flavor and more nutrition.)

To keep it healthy, avoid battered or deep-fried meats, store bought sweet-and-sour sauces and fried chow-mein noodles. Pile in the veggies!
Continued ›