Choose firm, medium to dark green cucumbers that are unwaxed and organic, and store them in the refrigerator.

Get ideas to serve up summer cucumbers from SparkRecipes.com.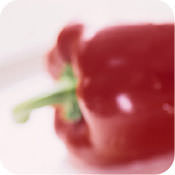 Bell Peppers
Available in practically all shades of the rainbow, bell peppers all start off green, then ripen to their eventual shades of red, yellow, orange, and even purple. (That's why green peppers are the least expensive; they take less time and care to grow.) When they ripen, they become sweeter, especially if allowed to ripen on the vine in the sunlight. They are excellent sources of the antioxidants vitamin C and beta carotene and also contain good amounts of Vitamin B6.

Select peppers that are firm and smooth, have fresh-looking stems and no wrinkles on their skin. Store them in the crisper of your refrigerator, where they will keep for a week. They can also be frozen (whole or chopped) and added to soups and stews throughout the winter. And you may want to consider buying only organically produced bell peppers. According to the Environmental Working Group's 2006 report "Shopper's Guide to Pesticides in Produce," bell peppers are one of the top 12 foods that commonly harbor pesticide residues.

Need some cooking ideas for peppers? Look no further.

A great recipe which combines all three of these nutritional powerhouses is Summer Gazpacho, a Mediterranean soup that is served cold. Besides tomatoes, cucumber, and peppers, gazpacho usually includes olive oil, onion, garlic, wine vinegar and sea salt, and this combination of ingredients is a prolific source of a variety of disease-fighting nutrients.

Happy summer harvest!