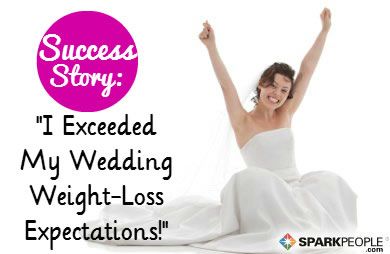 Marie (LMDORRELL) weighed was close to 200 pounds when she got engaged. "I got serious about losing the weight when we moved in together, but I rededicated myself in January 2009 when we actually set a date for the wedding." She hoped to lose 20 pounds but ended up losing 54 pounds by her June 2010 wedding. Here's how she did it!




| | |
| --- | --- |
| | |
| Marie Before: 195 lbs. | Marie After: 141 lbs. |


How did you handle the stress of wedding planning?
I didn't really stress much. My husband helped out a ton and we just did our best. I had a destination wedding (close to where we live now, but far away for almost all of our guests). It was hardly stressful at all because at the end of the day, I was marrying the most wonderful man and love of my life. Nothing else matters!

When did you order your dress? How did you know what size to order?
I ordered my dress one year before the wedding. You always need to be sure to order at least 6 months out! I worked at a bridal store at the time so I knew what size I was in every designer. This particular dress was the perfect size when I tried it on so I was able to order the sample size. When I received it, it fit well, a little big though. By the time of the wedding, it was 2-3 sizes too big!

Did you try any specific toning to help you look better in your particular gown?
I did a lot of toning for my legs since I was wearing a shorter dress for the reception. I love doing legs because you can almost see an immediate change in how they look.

Describe your pre-wedding diet and exercise routine.
I just tried my best to stay within my SparkPeople calorie range, no matter what I ate. I love food so I never deprived myself of something I wanted; I just tried to stay within my calorie range. The most important thing for me was exercise. I really enjoy the elliptical, so I would turn up my iPod and go as long as I could—sometimes 20 minutes, sometimes 2 hours.
Continued ›
Article created on: 9/20/2010