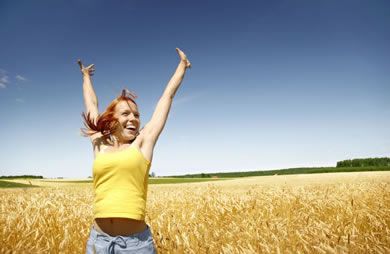 One day my soul woke up and it was fat! It didn't happen overnight; I wasn't always fat. I had spent the last 11 years eating emotionally. It started with my husband's death. We had been newlyweds. Emotional eating stayed with me long after my wounds began to heal and even after I remarried. It had become a habit. And even though I knew I was hurting myself, I felt powerless to overcome it. Food had control over my life for years, but finally, I decided to live differently. From somewhere came a glimmer of hope that my life could be different.

Then SparkPeople showed up with a soft knock and an invitation: "Can Audri come out and play?" This began a journey of self-discovery I never could have imagined. You see, I didn't realize that year after year, my personality and my future were slowly being buried under a growing layer of fat!

SparkPeople helped me realize for the first time that to be successful I had to make some serious changes. It wasn't enough to make a New Year's resolution and hope for the best. I had to commit to being different…but first I had to believe it was possible. So I started with what I knew to be true. I knew I had not always been fat. I knew others had overcome even greater weight obstacles than mine. Mostly, I knew that through my faith, I could do anything. After acknowledging these things, I felt prepared to commit to whatever it took to conquer myself. Within a week, I came up with the four strategies I would use to set myself up for success.

First, I assessed my battle with food in an honest way. My "If they don't see me eat it, it doesn't count" attitude had to go! Using the Nutrition Tracker, I took a close look at my food choices and it opened my eyes! Over time, I chose to eliminate caffeine, table salt, alcohol, sodas and excessively high fat, high-calorie foods from my diet. Some were harder to let go than others were, but one by one they fell by the wayside in exchange for healthier options.

Second, I stopped hiding my struggle. Those who loved me had known all along anyway—my size 18 wasn't a good disguise. I was only fooling myself. I realized I had fallen into a habit of secretly losing a little weight with the hope that others would notice. When they didn't, I became discouraged and eventually quit. I decided to try a different approach and bring God, my family and friends into the program with me. This way, I was encouraged and held accountable. Eventually, I joined a SparkTeam.

Continued ›
Article created on: 12/9/2008