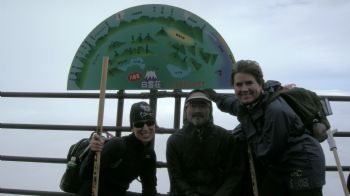 My goal of climbing Mt. Fuji came about quite by accident. Actually, it's my son's fault. While creating my vision collage, he stumbled upon a photo of Mt. Fuji. I thought it would make a great center photo since it was large. As my collage took shape around the photo, it occurred to me that I could make climbing that mountain my goal. Voila! I had my first lofty, long-term goal. At least it seemed pretty long-term at the time.
Just after making my collage, I met a woman on e-Bay. She was selling some workout DVDs, which I purchased from her. In the process of communicating with her over the purchase, we found some common ground and began e-mailing one another on a regular basis. It is this woman, my new found friend, who took a leap of faith six months later and flew half-way around the world to climb a mountain with me.
Three days after meeting in person for the first time, we headed out at 12:30 am to catch our bus for Hakone National Park, where Fuji is located. We drove an hour, caught our bus and rode another three hours to get to our starting point. With walking sticks in hand, we headed out on an adventure that would strengthen the bonds of friendship. Within minutes the rain came.
The path began easy enough. Our bus had dropped us off at station 5 and before long, we were greeted with a nice view, looking down on the clouds. We walked along on flat ground, talking about our strategy for pacing ourselves. Soon enough, the terrain began to change. During our 6 hour and 15 minute ascent, we zigged and zagged upward. We climbed stairs. We climbed steep boulders. We climbed in loose gravel. Occasionally, we stopped for electrolyte water or organic energy bars or to simply take a short rest. The rests got longer and more frequent the closer we got to the top, but I'm getting ahead of myself.
As we ascended, we passed a variety of people going both ways. One Japanese man even had a toddler on his back. I couldn't help but wonder if he had made it to the top. In retrospect, I don't think he did, but at the time I marveled at his accomplishment.
About 20 minutes into our climb, I asked my friend to pray with me. I gave the climb to God. I asked him to give us the strength to climb this literal mountain, as well as for protection. My friend and I spoke briefly about believing in angels. She felt she had received confirmation of a guardian angel just before we got on the bus. After our prayer, my step quickened. I felt a burst of energy propelling me forward. In that moment, I was more sure than ever that the mountain was already conquered, though my body slowed, my head certainly kept up the mental momentum!
We stopped at every mountain hut to have our walking sticks branded with a unique design. With each stamp, I grew more determined. Inevitably, we would stumble across people from our bus and we'd have a brief exchange. Several times we exchanged "ganbatte" with Japanese people. This word means "do your best" or "go for it".
There are ten stations on Fuji, with the tenth at the top. Around the 8th station, my hands began to get really cold and one of my fingers had turned yellow - a symptom of my Reynaud's Syndrome. I worked to get my circulation back, then put on my gloves and kept trucking. Around this time, we rounded the corner of one of the mountain huts and came face-to-face with a steep wall of rocks. My first reaction was, "YES! Let's do this thing!" In fact, this was a scenario that replayed itself numerous times. Each time, I had a similar "oh yeah!" reaction. It was my own way of cheering myself along. It worked for me.
Somewhere about half-way to station 9 I began to experience some altitude sickness. At first, I only felt slightly dizzy. Obviously, the dizziness only got worse the higher I moved. Within about 30 minutes, I also felt nauseous. We stopped, drank and ate, then began again. We moved more slowly. Though my friend was not experiencing the same effects, she was an amazing support throughout this process. Together, we worked through it taking five steps while breathing deeply, then stopping for two deep breaths. Eventually, I did begin to feel better and our pace quickened somewhat.
For the last 1.5 hours or so, the wind and rain picked up. A storm was rolling in. At times, the wind was so harsh that we had to brace ourselves against our walking sticks and lean heavily into the wind to keep from being blown over. Just when I thought the climb was never-ending, we ascended the last flight of stairs, passing under a red, shinto tori gate. We had arrived!
We stood in line to have our walking stick stamped with two special red stamps, then stepped out to find the crater. The wind was blowing so hard and fog was covering the crater. It had become dangerous and we were told not to go to the crater. We could not have seen it anyway. We planned to travel around the edge for however much time we had left, but ultimately could not for safety reasons. It was hard to come all that way and not see more of the crater and the view around Fuji.
After making a quick bathroom break, which was really a squatter, we bought some fresh, dry gloves, took some pictures at the pillar monument and decided to head down.
Compared to the ascent, the descent was only 2 hours 45 minutes. It was also zig-zagged, though the terrain never changed. It was loose lava gravel. My toes pushed into the toe of my boots. Over time, my big toes became quite sore. In the end, I finished the descent with one cracked toenail and a blister between two toes. Not bad, I think.
During the hike down, I realized we were surrounded by some beautiful plants. They were so lime green that they almost appeared to glow. The rocks were lovely as well - a rainbow of colors, but mostly red and turquoise.
There was one truly inspiring story I saw unfolding on that mountain. On the descent, we passed a young Japanese girl moving very slowly while her family encouraged her. This girl had one foot that was inverted, like a club foot - yet she made it up that mountain! My friend and I wanted to cry. It made all our obstacles pale in comparison.
Once down the mountain, we stopped for something to eat and did a little souvenir shopping. I had an "American dog", a.k.a. corn dog. It was much different from a true American corn dog, but I was thankful for it. Finally, I stopped at the post office to mail a few post cards before heading back to the bus.
I slept awhile on the ride back to base and woke up just as they were playing a video - "Touching the Void". It's a documentary about the perilous and near fatal climb of two friends. It was an appropriate topic and made me wonder if I could ever do the kind of climbing required to scale a 20,000 foot mountain. I'm not convinced that's an undertaking for me, but I won't rule it out. Like Confucius said, "the journey of a thousand miles begins with a single step". This was my single step. I'm just not sure yet where the journey will lead. I'm excited to find out!