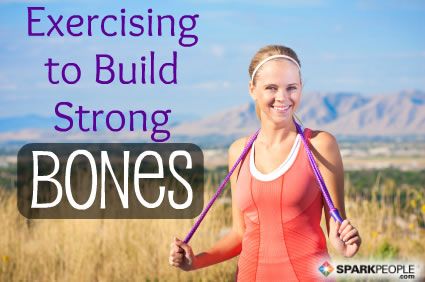 You know your heart, lungs, and muscles all need regular exercise to stay healthy and fit. But did you know that's just as true for your bones, too? Whether you're already facing bone-density problems like osteoporosis or osteopenia (pre-osteoporosis), or trying to make sure you don't have these problems later on, regular exercise is one of the most important things you can do for your bones.

But not just any old workout boasts bone benefits. The best exercise for building bone density and strength follows the LIVE approach:

L is for Load-bearing. Weight-bearing exercise that requires your muscles to work against gravity by moving your own weight (or added weight) up and down has the most bone-building benefits.

I is for Intensity. The more weight you move, and the more vigorously you move it, the more that exercise will strengthen your bones.

V is for Variety. Exercises that involve as many different muscles in many different functional movement patterns are best.

E is for Enjoyable. Let's face it. If you don't like your exercises, you're not likely to do them as much as you need to for best results.

While that may sound simple, right now you're probably asking yourself, "But how do I put these principles into action? How much load, intensity and variety do I really need? What kinds of exercises should I do or not do?" Or for some of you who already have osteoporosis, "How do I know when I'm pushing myself hard enough to do some good without causing further damage?"

In order to pick the exercises that will work best for you and your particular concerns, you need to understand how exercise actually affects your bones.

If you've never had the chance to look at bone under a microscope, you might imagine that bones resemble the lumber that holds up the walls and floor of your house. But in reality, your bones are very active biologically (like your muscles and organs), and they respond to exercise pretty much the same way your muscles and cardiovascular system do. The more stress you put on your bones, the stronger they will get—just as your muscles respond to lifting weights by getting stronger, and your heart and lungs respond to cardio by becoming stronger and more efficient.

Like everything else in your body, your bones are made up of cells that are constantly dying and being replaced. Some of these cells, called osteoblasts, are bone-building cells whose job it is to replace lost bone, and make sure your bones are strong enough to meet the regular demands you put on them. Osteoblasts are activated and stimulated when your muscles pull on them to produce movement. To make a long story short, the more stress you put your bones under with load-bearing movement, the more active your osteoblasts are, and the denser and stronger your bones become. If you don't stimulate your osteoblasts to keep adding new bone material, your bones slowly lose density and eventually may become porous and susceptible to injury from relatively minor stresses.

Continued ›
Article created on: 8/21/2007