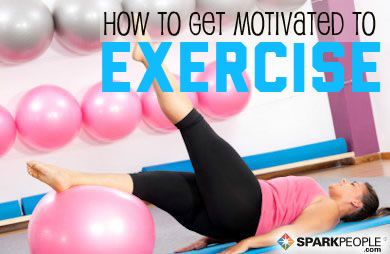 Ever find yourself forced to politely listen to someone (like me) talk about how much they used to hate exercise, but now really love it? If you're like I was a few years ago, you probably wished you knew what pills this clown was taking, so you could get your hands on some of them for yourself. Or maybe you just wanted to reach out and gently knock that obnoxious smile right off their face.

Either way, I'm here to tell you that you don't need to buy the chemicals that make exercise feel good and rewarding—your body makes them all by itself. They're called beta-endorphins. As you've probably already heard on the Message Boards and read in the Resource Center, it's true that if you can put in that first 10 minutes of exercise, the endorphins will kick in and make it much easier (maybe even fun) to keep going.

So, now you're probably asking questions like…
"That's nice, but what about those first 10 minutes?"
"What am I supposed to do if 10 minutes is all I can handle at once, on a good day?"
"What's the point of putting myself through all this discomfort just to burn roughly enough calories to burn off one pound every other month or so?"

WELCOME! You have just arrived at article #2 in a three-part series, and we'll focus here on building and maintaining both your motivation and your progress. (Part 1 got you started safely and effectively, and Part 3 will focus on some special goal-setting and problem-solving techniques that can help you get through the toughest days—and have a lot less of them.)

Please check to make sure your seat belt is securely fastened, all snacks are stowed away, and your Barcalounger is returned to full upright position, in preparation for departure.

Yes, it's true that when you set your sights on your long-term goal of losing a lot of weight, all the little things you can do along the way seem pretty insignificant. If I had a dollar for every time I talked myself into staying on the couch, by thinking of the 100 calories I'd burn with a couple of trips around the block as trivial, I could afford to retire. And I'd need all that money, because I wouldn't be able to get off the couch at all by now, much less work.

So, let's get real here for a minute. The reality is that the only thing that will get you where you want to be is the same little thing you don't want to do because it seems so insignificant. That's life—we want drama and spectacle, we get 10 minutes on the treadmill. All you can ever do is what is right in front of you, right now, in this moment. Everything else is history or fantasy. If it's meaning you want, try doing whatever is in front of you as well as you possibly can.

Continued ›
Article created on: 5/24/2006