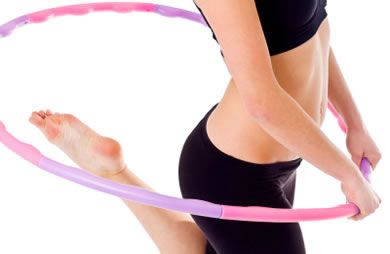 Ever notice how you can't spell "workout" without the word "work?" Most of us view work as something we have to do, not necessarily something that we want to do. It's the opposite of leisure and the killer of fun. We all know that we should exercise, but wouldn't being active be more fun if it was less like work and more like the recess you remember as a kid where you were dying to get outside to run around and play? When kids exercise, it's called play! When adults exercise, it's called working out. But what if you could recapture the fun and fitness benefits of play as an adult?

Workouts that mimic the games and activities of your childhood are a hot new trend in fitness. The nostalgic exercises are becoming popular because they feel more like fun than traditional fitness and take participants back to a carefree time when they didn't have to worry about bills, what to make for dinner, or acing that presentation at work. It's like being a kid again! Except this go around, you know that while you're having fun, you're also burning a bunch of calories, building muscles and strengthening your heart. Everyone wins!

If you'd like to add a little more fun to your fitness pursuits, these eight exercise ideas will turn your boring workout into a fun-filled recess activity. If you're looking for a full workout, you can put them all together for an extra good time! Or, if in a pinch, you can always do one or two of the exercises on their own for a quick -me-up any time, day or night. And as you can imagine, these are also perfect exercises to do with the entire family or a few friends in a team-like setting. So go ahead and blow that whistle—it's recess time!

1. Hula Hoop. More than child's play, hula hooping is also an effective core workout that's making a big comeback among adults. All that hip swiveling and rotating works all the muscles in your abs, including your transverse abdominals, which really help to tighten that tummy. And if you are good enough at hula hooping to do it for minutes at a time, you can burn about 200 calories for every 30 minutes spent hooping.

Try-It Tip: Try hooping during the commercials of your favorite TV show to increase your core strength. Adult sized and specially designed hula hoops (and fitness DVDs) are becoming more readily available these days, too.

Continued ›
Article created on: 7/21/2010