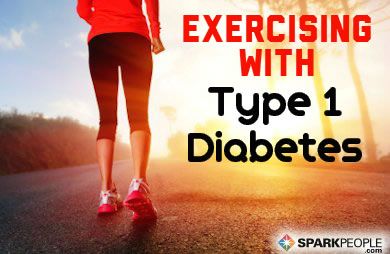 Physical activity is associated with many health benefits and is an important part of any healthy lifestyle. For individuals with type 1 diabetes, exercise provides additional benefits—and its own set of risks. In this article, we'll explore the health benefits, potential risks, and general guidelines that people with type 1 diabetes should keep in mind when starting and maintaining an exercise program. *Please note that the information in this article is intended to enhance discussion with your physician. It is NOT a substitute for talking to your health care provider before you begin an exercise program, or if you experience any problems in connection with exercising.



How Exercise Benefits People with Type 1 Diabetes


In addition to all of the usual health benefits of exercise, such as weight control, stress reduction, improved muscular strength and flexibility, and reduced bone loss, a sound exercise program can also help people with type 1 diabetes better use insulin and reduce their risk of heart disease.

Exercising on a regular basis can improve the sensitivity and number of insulin receptors in the body, according to the American Council on Exercise; this in turn helps train your muscles to use insulin better. These improvements in insulin utilization may lead to a decrease in insulin requirements for some individuals, but because people with type 1 diabetes are unable to make any insulin, no amount of exercise will ever eliminate the need for insulin injections.

People with type 1 diabetes are at an increased risk for heart attack, stroke, and other cardiovascular diseases, but regular exercise can help reduce these risks. Consistent physical activity has been proven to raise HDL (good) cholesterol, lower LDL (bad) cholesterol, and reduce triglycerides in the bloodstream. Physical activity also improves blood flow, increases your heart's pumping power, and reduces blood pressure.

It is worth noting that exercise has not consistently been shown to improve blood glucose control in people with type 1 diabetes. However, given its other numerous benefits, exercise is still an important part of living well with type 1 diabetes.



Exercise Risks and How to Avoid Them


Exercise can be risky to anyone who hasn't been physically active in awhile, but there are several potential risks that people with type 1 diabetes must carefully consider prior to beginning an exercise program. You should have a lengthy discussion with your health care provider to better understand how exercise influences blood glucose, and how to avoid potential problems, minimize risks, and recognize when you need to get additional information or medical care. Here are four of the most common problems that you must consider and address when planning your exercise program.

Continued ›
Article created on: 6/29/2010