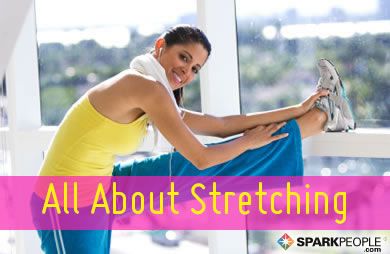 SparkPeople's Exercise Reference Guides offer an in-depth look at the principles of fitness.

Stretching comes naturally to all of us. You might notice that if you have been sitting in a particular position for a long time, you stretch unconsciously. It feels good! In addition to that good feeling, a consistent stretching program will produce large gains in flexibility and joint movement.

What is Stretching?
The act of stretching is to extend or lengthen your body or limbs. Stretching helps you develop and maintain a healthy level of flexibility, which refers to the range of movement at any particular joint. Stretching is also referred to as flexibility training. Examples of stretches include: calf stretch, hamstring stretch, triceps stretch, and certain yoga poses and Pilates exercises. The Fitness Resource Center includes stretching routines, videos and stretching demonstrations.

Flexibility training is broadly accepted as a way to increase joint mobility. The goal of stretching is to optimize joint mobility while maintaining joint stability. Although research has shown that different stretching methods will improve joint flexibility, it should be noted that inappropriate stretching can cause injury. Recently, researchers have promoted the concept of a "functional range of motion." This refers to developing just enough flexibility for a specific activity (or sport) without compromising joint stability.

Everyone should stretch, regardless of age, gender, or flexibility level. Stretching should be a part of your daily routine, whether you exercise or not. There are simple stretches you can do while watching TV, using the computer, or getting ready for bed.

What are the Benefits of Stretching?
Without regular stretching, your muscles will tighten and the range of motion in your joints will decrease as you age. This can put a damper on active lifestyles and even hinder day-to-day activities. Tasks that used to be simple, such as zipping up a dress or reaching for a can off of the top shelf, can become extremely difficult. A regular stretching program can help you to maintain your range of motion and make daily living activities easier.
Continued ›
Article created on: 2/27/2008