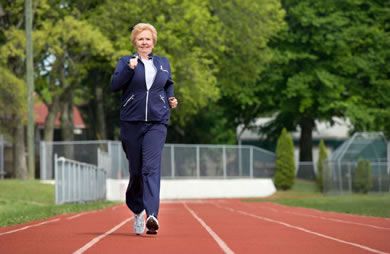 Measuring your fitness level regularly is one way to find out if you're making progress. Most fitness centers have trained staff who can evaluate your body composition, muscular strength and endurance, flexibility, and cardiovascular endurance, but it can be pricey. If you don't have access to all the toys and tools of your gym, don't panic. You have everything you need to measure your fitness level in your own house!

This 1-Mile Walking Test measures your aerobic (cardiovascular) fitness level based on how quickly you are able to walk a mile at a submaximal (moderate) exercise intensity.

Equipment Needed: Comfortable clothing and sturdy walking or running shoes; a stopwatch or a clock with a second hand; a flat one-mile walking surface, such as a standard quarter-mile track (four laps equals one mile) or a flat road where you've measured the one-mile distance with your car's odometer.

Goal: Walk one mile as quickly as possible.

Execution: We suggest that you DO NOT attempt this test until you are routinely walking for 15 to 20 minutes several times per week. Do not perform this test on a treadmill, as it will skew your results. Warm up by walking slowly for 3-5 minutes. When you are ready to begin, start the clock and begin walking as fast as you can while maintaining a steady pace. You can slow down and speed up as you wish, but the goal is to complete the mile as quickly as possible. Stop your watch or check your time at the end of the mile to the nearest second. When finished, keep walking for a few minutes to cool down. Follow up with a few stretches.

Continued ›
Article created on: 5/18/2010