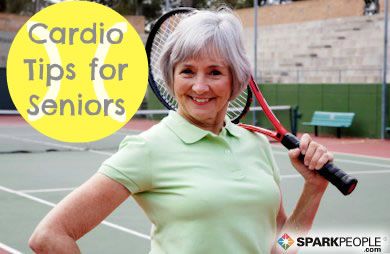 There's no doubt that getting older changes your body and appearance, but it also affects your ability to exercise. Your maximum heart rate declines with age, which means your heart and lungs can't pump as much oxygen and blood to your muscles during intense physical activity. As a result, your muscles won't be able to work as hard or as long as they once could. With age comes reductions in muscle mass, reducing the maximum effort you can sustain. Your tendons and ligaments will stiffen and shorten, reducing your natural range of motion and flexibility. And unless you're very lucky, you'll probably have some age-related problems with bones, joints and/or nerves, like arthritis or neuropathy, which will also affect your ability to move as freely as you once did in your younger years.

But does any of this mean you might as well accept the inevitable decline, scrap your exercise plans, and head for your favorite easy chair?

Nope—just the opposite, in fact. Researchers have discovered that much of the physical decline in we associate with aging may have more to do with increased inactivity than with aging itself. Moreover, starting (or continuing) a regular exercise program can delay and reduce the affects of aging, and in some cases, even reverse some of the declines already brought on by previous lack of exercise. The benefits of regular exercise, and the negative consequences of not exercising, are probably most notable between ages 50 and 70 than at any other time in your life.

To put it simply, if you can still move, it's not too late to improve your fitness level and your quality of life. Not doing that could spell real trouble. For best results, aerobic (cardio) exercise, which I'll cover in this article, should be a regular part of your daily routine.

But it will be important to choose activities and intensity levels that are right for you. Here are some simple rules you can follow to make sure you stay safe and use your exercise time effectively.

Continued ›
Article created on: 10/6/2009