Here at SparkPeople, we love seeing other companies help communities reach healthy, positive goals—and Meta is doing just that! This summer, Metamucil® underwent an evolution to become part of a full line of wellness products called Meta, which aims to give people simple solutions to help them live their best, healthiest lives. The folks at Meta believe that making small, everyday changes can lead to long-term health and wellness results (a philosophy that mirrors our own). Now, Meta is challenging Americans in Memphis, TN—which is currently ranked as the unhealthiest city in the United States*--to make strides toward more healthful living, one step at a time. Memphis is up for the challenge, and the city is making better health more attainable for everyone with a year-long partnership with Meta and national sweepstakes** hosted on the
Meta Facebook page
.
Read More ›
Are you sick of fighting constant tummy troubles? Many people suffer from bloating, discomfort and digestion problems--sometimes for no apparent reason at all. Isn't it time you did something to quit your bellyaching for good (quite literally)? We have a fun way to reset your system and get your digestion into tip-top shape with plenty of help along the way. Plus, it'll only take you 20 days to feel better!
Read More ›
Happy New Year! Now that the holiday season is behind you, you're probably ready to settle back into a routine and reevaluate your health and fitness priorities (we know we are!). This time of year, there seems to be a new gimmick around every corner that promises to get you into the best shape of your life this time (and fast).
At SparkPeople, we don't believe in quick fixes--we believe in good, old-fashioned hard work, consistency and determination. However, we also believe that a nice boost every once in a while can re-ignite a spark that's been fizzling out. So, don't start 2014 with a gimmick that's sure to fail, or an exercise program that's way too extreme for your lifestyle. Instead, join our 30-day Winter Wellness Challenge; a realistic, sensible plan that will steer you in the right direction for a happier, healthier year ahead—no gimmicks and no fine print. Just honest, doable challenges to make you feel great, inside and out, all winter long.
Read More ›
What if there was a pill you could take daily to help prevent multiple diseases and health conditions? Not just minor issues like acne or stiff joints, but the big ones, too: cancer, Alzheimer's, cardiovascular disease, diabetes. Not only would this pill prevent these and other conditions, but it could also help increase your energy, tone your body and reverse aging—with zero side effects. People would line up around the block to get their hands on the miracle drug!
While there isn't currently a drug that can do all these things, there
is
something that can help: nutrient-dense food—specifically a large selection of vegetables, fruits, herbs and spices. Countless degenerative diseases and health conditions are tied to
chronic inflammation
, which damages organs, cells—even DNA—and accelerates the aging process. However, the foods mentioned below, and many others, have been shown to subdue chronic inflammation and support numerous areas of health in the process. How many of these health-promoting foods are you eating?
Read More ›
Editor's note:
SparkPeople has partnered with Canyon Ranch to provide this survey. The contests are entirely sponsored by Canyon Ranch.
Fill out the survey below for a chance to participate in
a free eight-week online healthy
weight coaching program
from the experts at Canyon Ranch—and win a trip for two to Canyon Ranch Tucson. Of those who complete the survey in its entirety, Canyon Ranch will select 20 people to receive eight weeks of access to the online program.
If selected, you will be asked to participate in satisfaction surveys and follow up interviews after the program is completed.
In addition, one person who completes the survey in its entirety will be randomly selected to receive a trip for two to Canyon Ranch Tucson.
For over three decades,
Canyon Ranch
has been helping its guests get inspired to learn how to live healthier lives and reach their weight loss goals. Now, the premier health and wellness vacation destination is able to bring this support, motivation and expertise to the SparkPeople community through Canyon Ranch Online: Healthy Weight—a new online live coaching program. And you could get the chance to try it out for two months free of charge!
Here's what you'll get during the eight-week trial:
Weekly, live online fitness, nutrition and motivational coaching from your Canyon Ranch team
Personalized fitness and nutrition plans created just for you
Access to exclusive Canyon Ranch wellness lectures and videos
All you have to do is
complete the short survey
to take advantage of this amazing opportunity (worth more than $2,000)!
Click here to take the survey.
And just for filling out the survey in its entirety, you'll be eligible to win a getaway for two people for two nights at the famous destination resort in Tucson, AZ. (Read more about the trip below.)
Read More ›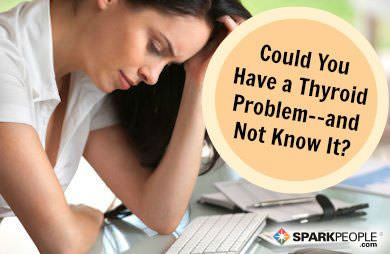 If you are a
Dancing with the Stars
fan, you are likely familiar with co-host Brooke Burke-Charvet's recent surgery to remove her thyroid cancer. Unfortunately,
Brooke's history with thyroid issues
is not unique; an estimated 27 million Americans (including myself) are living with a thyroid condition. Fortunately, thyroid conditions are treatable; however, they can be tricky to diagnose since the symptoms tend to be subtle and can easily be mistaken for symptoms of other health issues. Here are some of the most common red flags to watch out for.
Read More ›
For many people, cold weather and a lack of sunshine can bring on a mild depression known as the ''winter blues.'' People that experience the ''winter blues'' will generally lack motivation and energy. Others may even develop a clinical depression in the form of SAD (Seasonal Affective Disorder).
According to the
Mayo Clinic
, SAD is ''a type of depression that occurs at the same time every year. If you're like most people with seasonal affective disorder, your symptoms start in the fall and may continue into the winter months, sapping your energy and making you feel moody.'' Those that experience SAD may produce too much melatonin, which is a hormone that helps to regulate sleep and body temperature. Producing too much melatonin disrupts the body's internal clock and may then cause depression, as seen with SAD sufferers.
Some of the signs of SAD may include the following:
Loss of energy
Social withdrawal
Difficulty concentrating
Depressed mood
Fatigue
Weight gain
Cravings for sweet and starchy foods
Oversleeping
Read More ›
We get this question a lot. And we don't list sex in our cardio tracker for several reasons.
For reference, a cardio workout is anything that raises your heart rate for an extended period of time, usually 20-30 minutes. It works all of the major muscle groups, and you should find yourself sweating and breathing hard during the most intense part of the workout.
Cardio works large muscle groups repetitively (such as how running uses your large leg & arm muscles and swimming uses your whole body). Sex does not typically use major muscle groups (or at least not in a full range of motion the way that these examples do).
Cardio must reach a specific level of intensity, meaning that you must elevate your heart rate to an
aerobic level
and sustain it there—about 60-85% of your max heart rate, or on a
Rate of Perceived Exertion Scale
(where you estimate how hard you are working on a scale of 1-10, about a 6-8.5). Although you may be breathing heavily during sex, this isn't necessarily because your heart rate is up. It has more to do with hormones and what's going on with your nervous system. (Think of how you may breathe harder or feel your heart rate increase if you're scared—that doesn't mean you're getting a cardio workout.)
How many calories you're burning during sex really depends on too many factors. It's like asking "does walking burn a lot of calories?" It depends on your speed, distance, duration, intensity, etc.
Now, if you really feel that your sexual activity meets all of these requirements—although I'd recommend taking your heart rate several times during it to make sure—then you could probably count it as cardio. But according to most calorie counters, the calorie burn is pretty minimal—less than walking and not much more than just sitting. Plus, how accurate is that?
It's important to distinguish that not all activities are a workout. Sure, being "active" burns more calories than not being active. But just because you're burning a few additional calories does not mean you are exercising or that you're receiving the same benefits of a true workout.
Read More ›
Disney began focusing on providing healthier kids' meals at their Parks and Resorts beginning back in 2006. Now kids' meals routinely include low-fat milk and carrots unless parents opt out. Disney internal statistics reveal that parents will stick with these healthier side options six out of ten times instead of requesting substitutions. With more than 12 million kids' meals served annually in Disney Parks and Resorts in the U.S. alone, the changes are making a difference in how children are eating. In September of 2010, The Walt Disney Company launched
Disney Magic of Healthy Living
, a national multimedia initiative to help families raise healthy, happy kids.
Last month the Walt Disney Company took another step forward in their brand commitment to healthy eating by introducing new
food advertising standards
. Under Disney's new standards, after 2015 all food and beverage products seeking advertisement, sponsorship, or promotion on any Disney-owned television channels (including Saturday morning programming on Disney owned ABC), radio stations, or Web sites will need to comply with the company's new nutrition criteria for programming targeting children under the age of 12.
By the end of 2012, consumers will also begin seeing the new Mickey Check symbol on Disney-licensed food products. Disney anticipates this tool will help consumers easily identify nutritious choices in stores, online and while visiting Walt Disney Parks and Resorts. Disney also updated their nutrition guidelines to reflect current
federal standards and recommendations
. The new criteria include not only specifics related to calories but also to reducing saturated
fat
,
sodium
, and
sugar
.
Let's take a closer look at the details of the
Disney Nutrition Guideline Criteria
to see how they stack up nutritionally.
Read More ›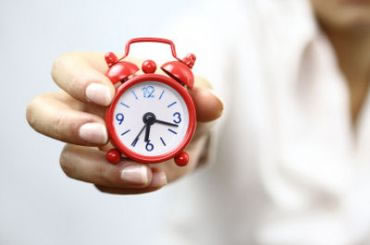 As a health coach for busy professionals, I hear a lot about how little
time
people have. My clients pack their days with meetings and commitments until there is barely room to breathe. But the truth is, no matter who we are, we all have the exact same amount of
time
--24 hours in each and every day. We can't choose how much time we get; but we
can
choose how to spend the time we have. And those choices make all the difference. Redirecting even small amounts of time away from unhealthy activities and toward healthier ones can start a snowball effect that will transform your life!
Read More ›
We are well into 2012 and I hope you have been successful with establishing your healthy lifestyle habits so far. If you have fallen off the wagon, today is the perfect day to recommit to your new habits. If you've been consistent with your new habits and are seeing the results, keep it up! Finally, if you have reached your goal, then congratulations! But to each and every one of you, remember that your habits must continue in order to maintain a healthy weight and to be your healthiest self.
Some of you might like the sound of
living a healthy lifestyle
, but might not know where to start. Getting healthy sounds simple enough, but there are so many areas to focus on that it can become overwhelming. If you're still having trouble identifying how to get healthier, the basics are a good place to start. As a physician, wife, mother of 5, weight loss success story, and a regular person just like you, here is a list of what I believe are some essentials for improving your health.
Read More ›
If you're having a difficult time getting seven to eight hours a sleep a night, it's a good idea to talk with your healthcare provider about options for improving your quantity and quality of sleep. Some women find that making changes in their sleep hygiene--a fancy phrase for good sleep habits--can make a big difference in getting a good night's sleep. Here are several tips for better shut-eye:
Read More ›
You may want to think twice about turning up your thermostat when the temperatures dip. Compelling research is focusing on the effect of cold on the human body, and how a type of fat called ''brown fat'' may affect heat production.
The human body has two types of fat: the kind we all know and dislike, ''white fat'' and another much more metabolically active fat termed ''brown fat.'' The white adipose tissue (WAT) functions to store excess energy, whereas the brown adipose tissue (BAT) has a much different function of burning WAT stores to produce heat.
The recent research into BAT has changed the past view that brown fat was only present in infants (who aren't able to shiver well) as a mechanism to generate heat. It was thought that, as we reached adulthood, we lost those brown fat stores.
One of the reasons it was thought that humans lost their BAT stores after infancy is because the stores are quite tiny (just several ounces) and are found in hard-to-detect areas such as the sides of the neck, collarbone, scapula and along the spine. Interestingly, brown fat really is brown because it is rich in iron.
Advances in medical technology have made it possible for researchers to detect these small pockets of BAT in adult humans using scans, and they are able to see the areas of BAT ''light up'' when study subjects are put into cold rooms without insulating clothing.One current study found that when people are exposed to cold, the BAT activates and draws fuel from the WAT to heat the body.
A recently published paper in the Journal of Clinical Investigation helped to define what type of fuel was burned by BAT. It was supposed that brown fat cells used glucose as a fuel, but this study showed that the major source of fuel for BAT is white fat stores. Once the BAT cells run out of the limited stores of glucose, they switch over to fat. The study showed that when the subjects were put into a cold environment that caused them to feel chilled (but not shivering) they had an 80% increase in metabolic rate, greatly increasing their heat production.
Another compelling area of research is exploring how exercise may cause WAT to be converted to BAT. Researchers found that in mice, the influence of a hormone causes white fat to become the metabolically active brown fat when mice were exercised. It's an intriguing question whether this conversion could be observed in humans with exercise, and hopefully research will continue in this area.
An interesting finding in the studies on BAT is that obese individuals show little to no BAT activity when exposed to cold. There's no clear answer regarding the lack of BAT activity in the obese subjects, and it's caused speculation over whether the lack of BAT may contribute to obesity in some individuals.
Without becoming part of a study, how can you estimate your level of BAT? I've listed below several points that research in BAT has helped define.
Read More ›
It's that time of year again, the time when people make
resolutions
, or in my case, goals. I've never been known to make resolutions, but I do like to make a list of goals for myself for things that I want to accomplish throughout the year. However, the start of a new year is not the only time I make goals for myself – I actually do this at least a few times a year. When I do make my goal list, I like to look at what I have accomplished so far and see if I need to make any adjustments to my current goals or add new ones. I see this as a list that evolves with me and what I feel is important.
Of course though, my list always includes goals that are health-related. Actually, that is what most of my goals have been in the last few years, but this year I am trying something a little different. While I do have some health goals on my list and will continue to work towards those, this year I want to put a little more focus on some goals that are not health-related.
Read More ›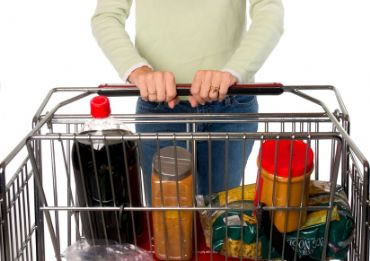 During the holiday season many schools, religious groups, and businesses conduct food drives for local food pantries. In the rush to grab something to contribute, nutrition or food safety isn't always high on the list of considerations. While the generous efforts of donating are appreciated, sometimes the food from pantry shelves is past the expiration date, which causes them to have to be tossed out instead of being able to benefit those that need it. Many of the typical non-perishable choices picked up at grocery stores tend to be high in sodium, sugar, or calories, which do not provide maximum nutrition for those that really need to make every bite count.
This winter, more people than ever are expected to visit a
local food bank
or seek out a
pantry or assistance for utilities, housing and medical care
than ever before. Use this list of suggestions to makeover your food pantry donations this holiday season and all winter long. Your healthier donations will go a long way to help those who receive them be as healthy as possible.
Read More ›
Read More Entries ›