All Entries For
that's fit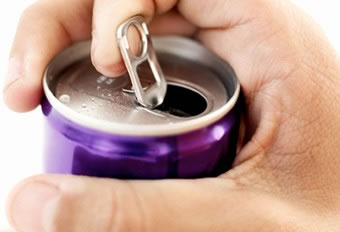 About one in four teens in the U.S. drink soda every day, according to a new
study
of high-schoolers released this week by the Centers for Disease Control and Prevention. Even though water, milk and 100-percent fruit juice reigned supreme in the study, 24.3 percent of high school students said they drink a serving (a can, bottle or glass) of soda every day. Government researchers, who looked at more than 11,000 high-schoolers, also found that 16 percent of students drink a serving of a sports drink every day. Boys were more likely than girls to report drinking soda every day, and African American teens more likely than white or Hispanic teens. Sugar-sweetened beverages like soda and sports drinks can lead to obesity, Type 2 diabetes and metabolic syndrome, researchers note.
Read More ›
"Let's try this," the email from my roommate said. Attached was a Groupon deal that was certainly intriguing -- 20
CrossFit
classes for $20 at a studio quite close to where I live. And considering I'd been interested in trying CrossFit already, the deal was too good turn down.
I first heard about CrossFit from my friend, an avid CrossFitter who went from a muffin top (her words, not mine) to a six-pack. Seeing her dedication -- and her crazy before and after photos -- inspired me to get with the program and give it a whirl.
Now, let's preface this by saying that while I'm certainly not any sort of athlete, I'm no slouch when it comes to fitness, either. I work out about four or five times every week, splitting my time between Bodypump, Ripped and yoga classes for strength, and a couple of sessions a week of spin and running for cardio. I also walk at least an hour every day when the weather's nice. I've done my share of push-ups, lunges and crunches over the years, so I'll admit it: Although I fully expected CrossFit to be a challenge, I figured I'd have a bit of an upper hand over the other beginners. I thought I would hit the ground running, so to speak.
I thought wrong.
Read More ›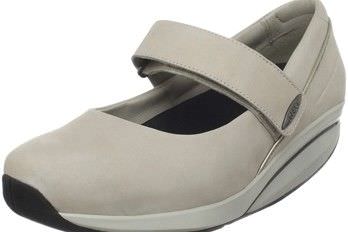 by Catherine Pearson, That's Fit
In spite of the best efforts of my childhood ballet teachers, I have become a sloucher. I am forever cringing when I see pictures of myself slumped over like a piece of limp spaghetti.
The source, I figure, is some combo of laziness and bad office chairs, but if the good folks at MBT shoes are to be believed, another culprit could be the ground beneath my feet. In 1996, the company designed (and patented) a thick, curved sole meant to mirror walking on soft, uneven surfaces, like people used to before everything was paved and leveled.
"When walking in MBTs, the ground no longer feels flat and stable, so the body has to compensate and create stability," its website states. That, in turn, is supposed to improve balance and posture.
MBT offers a variety of different styles, from professional to athletic. I tested a new style from its casual line -- a grey, thick-soled Mary Jane called the Kesho MJ. I wanted to see how it functioned as an everyday, walking-around-New-York-City shoe and also what effect, if any, it'd have on my posture. Here's what I found.
The Pros:
First thing's first: This shoe takes some getting used to. MBT isn't lying when it says its shoes provide a new -- or old? -- way of walking, and I did wobble around with each step.
Read More ›
by Neha Prakash, That's Fit
Fast food giant McDonald's is revamping more than 14,000 of their franchises,
USA Today reports
. The company is throwing $1 billion into facelifting its restaurants, in efforts to do what Starbucks had recently done, to create a more sleek and modern setting. The changes are set to be complete by 2015.
Renovations include adding flat-screen TVs, Wi-Fi and nixing the iconic red and yellow hues for more earth tone shades to establish a comfortable environment.
The chain hopes the changes
will edge out fast food competitors, like Burger King, but no menu adjustments have been reported for McD's.
The chain has taken a lot of flack in the past for promoting unhealthy food and being a large contributor to rising obesity rates. But the company does not seem to be addressing the food concerns in its pending changes.
Would you be more likely to visit an "upscale" McDonald's or will the food choices keep you away?
Read More ›
By That's Fit
We often hear about how some celebrity spends two hours at the gym six days a week, or who eats exactly 1,300 calories per day in order to get into killer shape, but the truth is that many working actors are working just as many hours as we are -- and their days are just as busy.
Ugi was created with busy people (famous and anonymous alike) in mind by kinesiologist and celebrity personal trainer Sara Shears. She wanted to provide her clients a system that was portable, straightforward and integrated both diet and exercise.
Here's how the system works. For $189, you get the
Ugi at Home
system, which includes an Ugi ball in the weight of your choice (the website helps you determine which weight is best for you): 6 lb, 8 lb, 10 lb or 12 lb. With the Ugi ball (which is a bit soft and squishy, like a beanbag), you receive a workout guide book, a DVD showing all 150 exercises from the book, a guide to making good eating choices, access to Ugi's online library of exercises, an interval timer and a free downloadable Ugi interval timer for iPhone (with other smartphone platforms in the works).
For pros, cons, and more, click here.
Read More ›
By Amy Capetta,
That's Fit
Maria Menounos interviews Hollywood's biggest celebrities as a reporter for "Access Hollywood," "NBC Nightly News," "Dateline" and the "Today" show. While making a career out of talking to A-listers, Menounos has learned how to look like one on a limited budget.
Menounos has just penned the new book "
The Every Girl's Guide to Life
," in which she offers her advice on how to live a healthier, happier and more balanced life. Menounos shared a few of her diet and fitness strategies exclusively with That's Fit -- and believe it or not, she stays fit without a trainer.
That's Fit:
What are your favorite healthy snack tips?
Maria Menounos:
My days can be really busy, so when I grab a snack, I want it to work as hard as I am. I want it to give me energy, fill me up [and] fuel my body. I like to grab veggies, like baby carrots or a handful of almonds. I also look for snacks that are high in protein and fat free, like Greek yogurt, which has two times the protein of regular yogurt to help satisfy hunger. Blueberries and apples are amazing, too. I often take apple slices to work with me.
Get the rest of Maria's tips at That's Fit!
Read More ›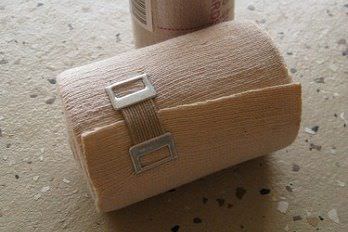 by Holly St. Lifer from That's Fit


Anti-aging articles abound touting the benefits of lifting weights to boost metabolism and fat loss, and increase bone density. But strength training is also your first defense against injuries.
Weakness is the number one factor for putting you at injury risk. "The older we get, the less elastin -- a protein that keeps our tendons and ligaments flexible -- we make . As a result, these connective tissues become more stiff, placing added responsibility on our muscles to bear the burden of movement and impact when we run, swing a golf club or take a Zumba class. If your muscles aren't strong enough, you'll get injured," explained Henry Lodge, M.D., and coauthor of
Younger Next Year
.
Let's say you're a tennis player for example. If you don't have strong upper back and core muscles, then tendons and ligaments in your shoulder and elbow take on too much and you're at greater risk for a rotator cuff tear or tennis elbow.
Get the rest of the story at That's Fit!
Read More ›
By Kimberly Papa of That's Fit
Celebrity trainer
Jackie Warner
has the kind of abs most of us can only dream about, but the creator of the "Personal Training with Jackie: Crunch-Free Xtreme Abs" DVD and star of Bravo's "Thintervention" says anyone can get a seriously toned tummy with the right diet and her must-do moves -- which, by the way, do not include crunches.
Why do you say crunches alone are a waste of time?
Crunches are not going to change your body shape at all. Diet is the key. If you don't change your diet, then doing crunches will add only muscle to your shape and can actually make you appear larger. The best exercises for changing your body shape and strengthening the core is to do push-ups and weighted squats.
Read the full story at That's Fit!
Read More ›
Via That's Fit
10. Michelle Williams
This Dawson's Creek alum and Brooklyn mom turned to yoga for healing after her ex-boyfriend Heath Ledger's untimely death. "Yoga gave me relief like nothing else; it made me a better person and a better mother. I could come back to my daughter anew," she said in this month's issue of Marie Claire. She felt so inspired that she started the Yoga for Single Moms project, which provides free yoga classes and child care to single moms who seriously need a savasana.
9. Donna Karan

Designer Donna Karan has been a practicing yoga since she was 18. After establishing herself as seminal New York City fashion designer, she went on a personal spiritual exploration, trying everything from Reiki and crystals to Kabbalah. She's abandoned her carnivorous past for a raw-food diet, Jill Pettijohn's nutritional cleanses, and is a patient of integrative physician Dr. Frank Lipman. Karan has become a wellness force in the city: She helped create and fund integrative health and healing programs for cancer patients used in New York City hospitals through her Urban Zen Foundation.
8. Christy Turlington

Christy Turlington is a supermodel who's also pretty on the inside. The Tribeca-based yogi is a contributing editor to Yoga Journal and wrote Living Yoga: Creating a Life Practice to share her yogic experiences. She frequents Physique 57 and is a vegetarian. In 1999, she created Sundari, an Ayurveda-inspired luxury skin-care line, which she has since sold. And she went on to make a documentary film, No Woman, No Cry, that calls attention to maternal mortality around the world, which debuted at the 2010 Tribeca Film Festival. Turlington has also lent her star power to CARE and anti-smoking campaigns.
Get the rest of the list at That's Fit
Read More ›