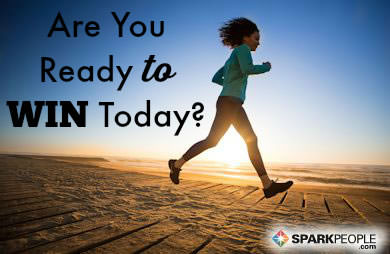 Editor's Note: This blog is part of our "Hello from SparkGuy" series--a weekly post where SparkGuy himself stops by to motivate, inspire and share a bit about what's going on at SparkPeople.
Hello, SparkPeople Members!
The crisp autumn weather is here (at least where I am in California). I hope everyone had a great week, taking one positive step at a time to reach your goals. As a warning, I'm about to brag about one of my kids, but hopefully you'll agree it's for a good reason :). I love sharing growth they experience with you.
Motivation in a Minute
This quick story about one of my boys demonstrates how taking small steps one at a time can lead to fun breakthroughs in life.
Read More ›
Editor's Note: This blog is part of our "Hello from SparkGuy" series--a weekly post where SparkGuy himself stops by to motivate, inspire and share a bit about what's going on at SparkPeople.
Hello, SparkPeople Members!
I hope last week went well and you are ready for another good week ahead! With the holidays quickly approaching, life can get very busy. Let's all keep taking small steps one at a time to reach our goals for the last 70 days (or so) left this year. Don't give up on reaching goals this year. Instead, make every day count!
Motivation in a Minute
I read this great quote on Quora yesterday:
"When we hit our lowest point, we are open to our greatest change." (From the TV show
Avatar
.)
This is a brilliant quote that illustrates a major point I make in the free
10+ Fitness Minutes Mini-Book
: all it takes is a few small positive steps when we are down (which happens to all of us) to start building a virtuous cycle back up. It also clearly demonstrates how mistakes can be great learning experiences. (This is coming from someone with a history of anxiety who doesn't like making mistakes, but now values the process when it inevitably happens :)). Any time you are down for any reason, make a mistake, or somehow stray from your goals, just keep this quote in mind and immediately start thinking about one positive step you can take. Examples would be: eating one healthy food, doing 10 or more fitness minutes at home, calling a friend, or even posting in the SparkPeople Community to receive support.
Read More ›
My one-year "Sparkversary" of working at
SparkPeople
came and went in January, and I've been reflecting on all the amazing things I've gotten a chance to do over the past 12 months. Between writing, editing and managing content on the site, I also got to go on a whirlwind adventure to California to help direct and film a batch of videos for
SparkCoach,
our premium interactive coaching program. But I wasn't in this alone—I also had the pleasure of working with
SparkGuy
himself and SparkPeople member Shelli (
MOSTMOM1
). (You might remember Shelli's "
SparkPeople Cup
'' and "
Hooping Gangnam Style
'' vlogs—needless to say, this woman is FUN to work with; we had a blast! You can read her account of our trip
here
.)
Read More ›
We here at SparkPeople started this day out with one giant "WooHoo!"
Why? Our own Chris "SparkGuy" Downie has been honored by
Fitness Magazine
as one of 10 Champions of Health and Fitness in 2010. Chris is in great company: Jessica Biel and Jamie Oliver, who are doing their parts to make this world a healthier one, are among the other honorees.
We're stoked that a major magazine honored Chris--and SparkPeople--this way.
Read More ›
SparkPeople is incredibly excited about this morning's launch of Michelle Obama's childhood obesity initiative. As the largest and most active weight loss and fitness website in America, SparkPeople is ready--and able--to fully support this initiative.
Announced last month
and explained in detail this week, the plan--called
Let's Move
--would unite federal, state and local governments with businesses and the nonprofit sector to provide healthier food in schools, more ways for kids to get moving, and supply better access to affordable, nutritious food in all communities--and call for more accurate food labeling.
"Over the past three decades, childhood obesity rates in America have tripled; nearly one third of children in America are now overweight or obese," the East Wing said in a statement. The First Lady cited the latest statistics: Around 32% of children and teens are obese or overweight, according to the Centers for Disease Control and Prevention; about one in five of children ages 6 to 19 are obese.
These statistics are beyond alarming.
But we believe that with so many people and organizations across America joining the fight, there is an incredible opportunity to help end childhood obesity in our lifetime. Weíve seen some promising trends in the SparkPeople community that give us much hope, too. Iíll tell you about some of those.
Read More ›
Greetings, SparkPeople! I'm writing to you from back home. I visited the team in Cincinnati last week, and we had a party to celebrate our recent successes. A couple of weeks ago, I asked you to send us photos of your "Spark Sightings."
Round One
was a hit, and so was Round Two. Check out these great stories and photos of members Spreading the Spark--and spotting
The Spark
.
"I purchased a copy of
The Spark
and donated it to my local library, which is also where I am employed. My theory is that some will not want to spend the money until they have had a chance to really Ďcheck it outí to see if it is worth their hard earned dollars. I see it as a win/win situation, if they donít care for it, at least they have heard of it, if they love it, they will go out and purchase a personal copy.
So far, our library is the only one in the state to offer
The Spark
.That means that folks in other towns may request an interlibrary loan and borrow ours. I have made an announcement and posted a photo on the ĎSpark Maine The Official Teamí so that all will know.
The photo is of myself at the Ellsworth Public Library, Ellsworth, Maine.
I LOVE my book! I am on chapter 3, and reading if VERY carefully, and slowly, taking in as much as I can! I donít want to miss a morsel of the great information!"
Sandy Abbott
(
HIKERSAN
)
Read More ›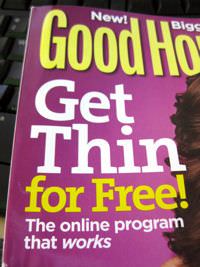 Remember
last week when I mentioned some big news
and an article in a major magazine? I couldn't divulge details then, but that magazine is now on newsstands, so I can share: I wrote an article for
Good Housekeeping
(in the February 2010 issue with Amy Grant and Vince Gill on the cover). The article is a cover story! (Can I get a Woo-Hoo?)
When I was in New York, I had the honor and privilege of meeting GH Editor Rosemary Ellis--and got a tour of the
Good Housekeeping Research Institute
. It was really impressive to see all the research that goes on there, and it's an incredible honor to have such a respected magazine give us such amazing coverage.
(Happy 125th Anniversary, Good Housekeeping!)
Read More ›
I've been pinching myself so often lately that I might soon have a bruise on my arm. So much good news has been coming our way in the last few weeks that it's hard to believe that it's all happening at once. While 2009 was a pretty amazing year for SparkPeople, 2010 is the year of
The Spark.
Last week, I recapped my trip to New York with you, and I told you that we had even more exciting news to share.
And here it is:
Read More ›
Last week when
my new book, The Spark
, was published, I shared with you the photo of me first spotting the book in stores. Since then, I've traveled from my home in California to New York and a few other cities, and I've seen it in bookstores--and even in people's hands. I asked you to share your photos of
The Spark
, and many of you did! As promised, here are "Spark Spottings"!
Read More ›
Hello, SparkPeople! It's SparkGuy again. Wow, was it a busy week! I was in New York and Washington, D.C., for press tour to support
The Spark
, and boy, has it been exciting!
Read More ›
Greetings, SparkPeople. It's SparkGuy here, blogging from the road. I'm a long way from home this week, on the East Coast to promote
The Spark
. I've done TV interviews with local stations around the country, spotted
The Spark
in Times Square, and even met with some old friends and members. I've also had a few really exciting meetings. (Stay tuned to the dailySpark for more news on those! Just keep Spreading the Spark! It really helps.)
Even though New York is crazy-cold, I did a run for an hour around the city today--brrrrrr. Luckily my hotel room has high ceilings, so I did some jump rope in here to warm up.
I don't have much time to write, but I wanted to share some of the highlights of the trip so far!
Read More ›
Thanks to all of you for your kinds words, encouraging messages and excited notes about the launch of
"The Spark."
Here at SparkPeople headquarters in Cincinnati, we celebrated the launch with a trip to a local bookstore to see the book on display and a group lunch. We were so excited that we actually got there as we the employees were bringing the new books out. By later that afternoon, we were getting emails, texts and tweets from friends, fans and members who had seen the book (and bought it)!
"The man checking me out asked if the book was featured on a show today because he has been selling them like crazy," Tanya told us when she went to buy more copies of
"The Spark"
for friends and family.
Read More ›