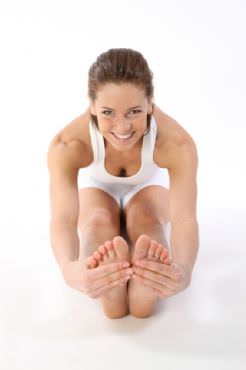 For the past 4 1/2 years I have spent the better part of my exercise routine on the elliptical, treadmill, walking outside, running, and doing some strength training to boot, but I spent very little time on flexibility. I have managed to exceed my cardio and strength training exercise expectations well beyond my dreams, but the one thing I have not done in many, many years is to bend over and touch my toes.
I am not kidding when I say that I lacked the flexibility to do what seems so natural to so many. Just look at little kids--they think nothing about touching their toes, but for me this was a feat that I have not been able to do for ages--that was until I took up
Pilates
12 weeks ago. And last week I achieved what I never imagined and that was to bend over and touch my toes!
Read More ›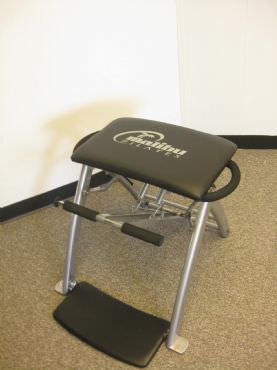 Have you seen the
infomericals for Malibu Pilates
, the exercise chair endorsed by Susan Lucci? I've seen them, and they make some big promises:
"Drop a dress size in 10 days! The most innovative blend of Pilates and aerobic exercise!"
While I watch
any
fitness or weight-loss commercial with a healthy dose of skepticism, I do keep my eyes out for cool fitness products that look like they provide a good workout. As a Pilates instructor and enthusiast, I was immediately drawn to Malibu Pilates. I admit, I though it looked cool! But that's partly because I was already familiar with Pilates and the special "chair" at the center of this program.
While most people are familiar with mat Pilates, they might not know that Joseph Pilates also designed several pieces of exercise equipment. The
Pilates Reformer
is probably the most common and widely recognized piece of Pilates equipment, but the
Wunda ("wonder") chair
is another. These pieces of studio equipment are pricey. Most cost
$1,000 or more
(not exactly
cheap exercise equipment for your house
). If you don't want to buy one, but want to try one, you can expect to pay AT LEAST $20 per class (usually more) to use this equipment with a certified instructor at a studio or gym.
That means these amazing pieces of equipment—and the exercises you can do on them—are unaffordable and inaccessible to most people. Few gyms and studios have them, and even fewer people have the cash (or the know-how) to purchase and use these items at home. But more affordable versions of these classic designs are reaching the market for fitness enthusiasts to use at home; the
Malibu Pilates chair
is one of them.
How does it compare to the real thing? And what kind of results can you expect? I contacted the company to review their product and they were happy to send it to us. Before you drop the cash to buy one yourself, find out what I thought of the Malibu Pilates chair and its workout DVDs.
Read More ›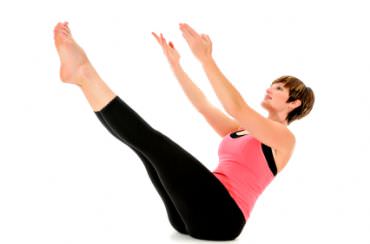 I never thought Pilates was for me. I saw the videos, infomercials and classes at the gym, often full of older women in leotards, lying on their backs, moving their legs around in the air. It sure didn't look hard. Where was the challenge, resistance, or weights? And it didn't look very fun either, just lying on the floor for so long. I decided that it wasn't for me and that was that…or so I thought.
After I had been teaching fitness classes for a few years, I started to get bored with my usual strength and cardio classes. I needed something new to keep my interest and enthusiasm. What started as a weekend Pilates workshop for inexpensive continuing education credits (necessary for every certified trainer or instructor) turned into a new passion for me. While I took the training course just for credits, I found out that I really liked this Pilates business, and the more I trained, the more benefits I experienced.
I believe that every person can benefit from Pilates—men, women, athletes, couch potatoes. People of all body shapes and weights. People of all levels of fitness and coordination. It truly does offer something for everyone.
In a new dailySpark series, I'll give you plenty of good reasons to try a variety of fitness endeavors that you may have never considered before. First up: 6 good reasons to try mat Pilates.
Read More ›
Kate Winslet is a talented actor and mother of two. Despite her real-life role as a working mom, Kate is
looking slim, toned, and downright fit
in recent photos and stories—not to mention her new movies,
The Reader
and
Revolutionary Road
. In a recent interview with UK
Elle
magazine, she calls herself a "pretty average" woman with cellulite, and says that she doesn't have time hit the gym. So what's her fitness secret? You might be surprised to learn that it's something
convenient, affordable and within reach of average women everywhere.
Read More ›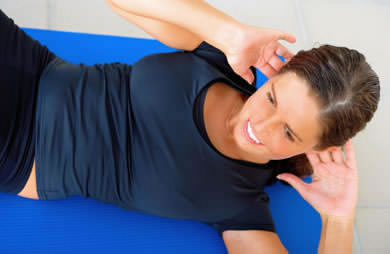 Who doesn't want six pack abs? Well
REIGNWATER
recently asked a great fitness question related to these muscles: "Does Pilates count as ab work? How often can it be done?"
Want to hear what I had to say?
Read More ›