All Entries For
new year's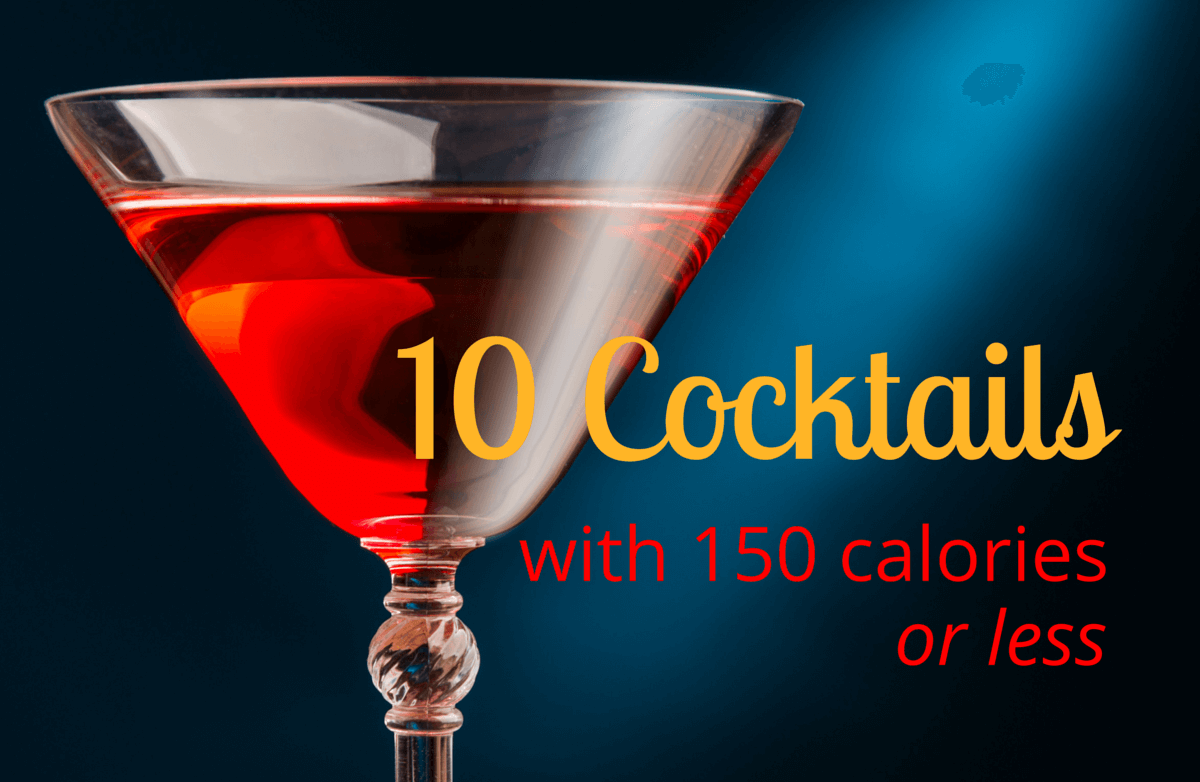 If you're planning to ring in the New Year with a drink, watch out: Many popular cocktails contain more calories than a cheeseburger! To celebrate without adding to your weight, try one of these low-calorie cocktails.
Read More ›
One of the most difficult things to do is change. Some people thrive on it; I'm not one of those people. A little here and there is good enough for me. When it comes to changing your body, we all want it fast and now, including me. Now where was that genie in a bottle infomercial number I took down last night?
The number one advice I have for people is to
embrace your change and your journey
. Make your changes slowly and for real. If you're the type who cleans out the kitchen, gets rid of all the food, swears to exercise an hour a day, and starve the fat off no matter what it takes, you too will burn with passion and have some success... that is until the burnout hits hard.
One of my mantras is "Aim for better every day, never perfect right away." We can all achieve
better
, but not one of us will achieve
perfect
. So quit holding yourself up to perfect standards. Better standards are worth aiming for--always challenge yourself.
Read More ›
The
Dietary Guidelines for Americans
recommends individuals between the ages of 2-50 should
reduce daily sodium intake
to 2,300 mg or less. For those older than 51 or younger individuals with
hypertension
,
diabetes
, or other chronic diseases, the recommendation lowers to 1,500 mg per day. Since sodium is essential element necessary for the body to function properly, it is important to consume between 1,500-2,300 mg per day on average unless otherwise directed by your medical provider.
In our ongoing
Food on the Run
and
Diet Friendly Dining
series, one of the most common comments I find relates to
why the sodium content is so high
in the foods we suggest as being "healthier" options.
More and more restaurants are moving in the direction of fresh, whole foods for entrée and side options. Since these tend to be naturally low in sodium, they are a great way to increase nutrition while decreasing the sodium and fat content at the same time. Options such as fresh fruit and steamed or raw vegetables without added sodium, lean meats, poultry and fish as well as whole grains, dried beans, and lentils that do not have added salt are usually better choices with lower sodium content.
The
Healthy Dining finder's
team of Registered Dietitians believes that Sodium Savvy menu items are those that provide 750 mg or sodium or less for an entrée, and 250 mg of sodium or less for an appetizer, side dish, or dessert. Here are 10 of the best low sodium casual dining and fast food entrée options you might want to select next time you are eating away from home.
Read More ›
THIS is a very special day!
There has been much discussion about this day and we weren't sure it would ever get here. However, I've checked and I've double-checked the
calendar
and TODAY is THAT DAY! Oh sure, there will be some who aren't as happy about this day as others. I mean, if we really mean what we have said at different times, today should be an incredible day. Today could quite possibly go down as THE highest productivity day ever in the history of the world. If this doesn't excite you, I'm not sure what will! Your life or the life of a loved one could very well be changed FOREVER, just because today happened.
Not only is this January 2, 2012, today is SOMEDAY!
Read More ›
Here are some interesting statistics regarding restaurants –
Sixty-two percent of consumers have been cutting back on visits to casual-dining restaurants.


Forty seven percent of consumers want healthy restaurant options while just twenty-three percent select healthy food when dining away from home.


Fifty-two percent of consumers suggest that different and unique flavors influence their restaurant visits.
Technomic
is a consulting and research firm that focuses on the food industry by providing proprietary studies and research based guidance. Their research has found many interesting consumer trends. Here are some of the top restaurant trends they want us to watch in 2012.
Read More ›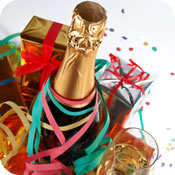 As 2011 comes to a close (geez- time sure flies!), I've been thinking about the blogs I've written over the past year. Some are topics that I've been asked to write about (hot topics in the news, etc.), others are stories I've come across through my own research, and then some are just things that I observe and think about in everyday life. I thought I'd share a few of the favorites that stick out in my mind:
Read More ›
It's time to say farewell to challenging 2011 and enjoy a fresh start in 2012. SparkPeople wants to help you ring in the New Year and achieve your personal health and fitness goals. A challenge with holiday cooking is that it revolves around parties, traditions, and expectations of calorie-rich, fatty, and sugar- sweet dishes. We've gathered our top party recipes from SparkRecipes to help you get 2012 started on the right foot with fun, healthy and tasty dishes that will make your gathering the toast of the town.
Read More ›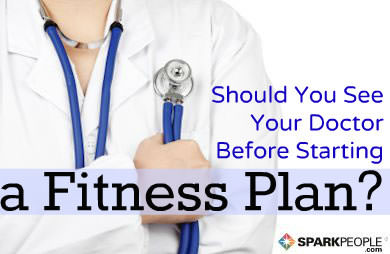 "Consult a physician before using this equipment."
Have you seen this statement before? If the exercise equipment was manufactured in the last 30 years or so, this statement or a similar disclaimer is likely placed somewhere in small print. I see it (well, ignore it) just about every day when I step onto my elliptical. Gyms, exercise videos, and weight-loss reality shows for example all typically have similar disclaimers such as "consult a physician before starting any exercise program."
Even though we tend to ignore them, they're there!
Have you seen the one that reads: "stop exercising if you feel pain, faint, dizziness or shortness of breath"? This one may leave you thinking "you forgot sweat." Take it from someone who has gone from a sedentary to active lifestyle. I felt all of those things (still do on days when I do strength training for my legs)! I didn't exercise to extreme pain, I never passed out, and I didn't feel severe pain, but certainly I felt all of those symptoms to some extent!
I'm sure many of you do what I did when I started exercising. I completely disregarded the warnings and started working out because I was tired of being overweight and unfit. I didn't want to overcome yet another obstacle by waiting to talk to my doctor. (Doctors are notorious for being bad patients, by the way.)
Let's get serious for a few moments and examine these disclaimers. Let's determine whether you actually need to consult with a physician before embarking on your exercise plan.
I feel slightly conflicted: I ignored the ubiquitous warnings to consult my doctor before I started working out 140 pounds ago, but I'm encouraging you as SparkPeople members to take an extra step to visit a physician before engaging in an exercise program. I know that when the inspiration to change strikes you need to take advantage of it, but as a doctor I know it's better to be safe than sorry (and SparkPeople agrees--and includes such a warning in the site's terms and conditions).
Thankfully, most people who choose to disregard these disclaimers do not suffer any consequences. But,
some
people will find out that they have a heart condition during exercise, injure themselves, or exacerbate their existing medical conditions. They may not even realize that they are putting their health at risk by trying to do what they believe is the right thing. The rest of you will be relieved to know that you can start exercising without pulling out your wallet for a co-pay (and not sitting in the waiting room at the height of flu season).
So how do you know which group you're in? Should you see your doctor or not?
Read More ›
Editor's note: The ladies behind Fit Bottomed Girls, one of our favorite health and fitness websites, have generously shared some great tips to help you stick to your New Year's resolutions.
By Jenn (above, left) at the Fit Bottomed Girls
'Tis the season for making your fitness and weight-loss dreams come true! After all, the New Year is the perfect time to look at where you've been and set some goals for where you want to go. The good folks at SparkPeople asked us to compile some of our best New Year's tips for this guest post. Read on for how you can make the most of this motivational time of year!
5 Ways to Keep Your Resolutions on Track:
We all know how easy it is to start the year full of inspiration only to have it disappear by February 1. Follow these tips to keep your resolutions on track and that motivation high!
Top 10 List of the Best Beginner Workout DVDs:
We review a lot of workout DVDs, and this is a list of our all-time favorite workout DVDs that are perfect for newbies!
Read More ›
You may have started the New Year by reading tips for
how to select a diet that suits your needs and lifestyle
. Perhaps you joined the
28-Day Bootcamp Challenge
to get your booty moving. Maybe you've read about the
11 healthiest food trends of the 21st Century
and want to incorporate some of them into your healthy eating plans for 2011.
The first week of a new commitment to health can be exciting and overwhelming all at the same time. Many people are at a loss for how to begin making healthier eating choices. Following a "diet" plan may seem like an easy option at first. However, by day three a more rigid approach to eating then you are accustom can suddenly become tedious and feel restrictive. Trying to make all these new habits fit into your day-to-day life can become too much to process. Getting started with healthier eating does not have to be as complicated as you might think. Here is a secret tip that can help you begin your journey.
Read More ›
By Beth Donovan aka ~Indygirl
It has been a long journey from 460 pounds to 316 (check out my before-and-after pictures above), but one that's well worth it. It has taken me since January 2005 to lose that much weight. I was a member of SparkPeople.com under a different user name when I started. When I got super serious, I became
~Indygirl
.
When I first started my journey, I felt truly hopeless. I had tried everything before. I had tried five diet clinics (a few of those more than once), gym memberships, prescription diet pills, books, tapes, videos, supplements, and fad diets. Nothing ever lasted, and I always gained back more weight than I lost. I was convinced that my metabolism was broken and that the only way to lose weight was to torture myself and starve through yet another diet. Reasoning, however, told me that it was only a matter of time before that diet would fail and I would be fatter than I was before.
There is a heartbreak that comes with gaining weight back. It is hard to suffer it alone, but the world, your family and friends also watch you do it. That was an unbearable pain for me. Every time I would fail, I not only failed myself and suffered my own admonishment and disappointment, but I also suffered the looks and comments of those around me. The wondered "Why did I do that to myself? Why would I regain the weight?" Well, it wasn't as if I set out to do it, it slowly happened because I couldn't keep up with the diet.
I've now successfully kept 100 pounds off for two years and have even lost more. How, though? I was never the one to lose weight like that; I was the friend or the person who heard about the person who lost the weight. I credit SparkPeople for teaching me how to make true lifestyle changes, rather than how to go on a diet. I knew how to diet. Lifestyle change takes time and patience and is a very emotional journey, one that is never really over. As one of my blogs said, "
Fitness is a journey, not a destination
." That mindset made me realize that I needed something that was so individualized that I could live with it for my whole life. There could not be a "wagon" to fall off of, so to speak.
I don't set typical goals. My goal this year is the same as always,
to do better.
Read More ›
Perhaps you remember
Brooke White
from
Season 7 of American Idol
. This self proclaimed lover of anything "right brained" is now taking on acting in the latest
Family Movie Night
presentation.
Change of Plans
is a "revealing story that shows how embracing life's unexpected events can open your heart and mind to new possibilities." This
latest installment
of better TV for families presented by Walmart and P& G will have its world premiere on
FOX
this Saturday, January 8, 2011 at 8 pm EST/7 pm CST. Although co-star Phylicia Rashad of Cosby Show fame caught my attention, what really put a smile on my face was Brooke's movie theme song video for
Something Beautiful
.
Read More ›
The end of the holiday season is almost here, but we all have one more potential hurdle to face before January 1 (and an enhanced commitment to our goals) rolls around: New Year's. I'm talking about the partying on the Eve (hello party food and delicious drinks!), and the sampling of all the "good luck" foods associated with New Year's Day.
Beyond that, you're probably also thinking about your goals for next year, but we've got you covered there, too. Read on for a variety of health New Year's recipes, diet-friendly alcohol choices, and tips to set up shop to reach your goals once and for all in 2011.
Read More ›
It's hard to believe we are almost 2 weeks into 2010. This blog is coming a little late since we have been undergoing quite an ordeal in the Howard Household. My Mother-in-law was diagnosed with liver cancer only 3 days before Christmas, so for the past 3 weeks we have been working frantically to set her up with hospice while making sure all her affairs are in order.
Even though it seems I have a lot on my plate right now, I did not fail to make some goals to strive for this year. Goals are such an integral part in keeping on this journey I call healthy living, so be prepared--here goes...
Read More ›