All Entries For
breast cancer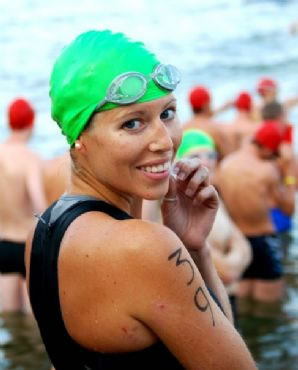 Editor's Note (Nicole Nichols): I've had the pleasure of competing against Laurah Turner in multiple local races (and by "competing" I mean "watching her leave me in the dust"). I always found her athletic achievements admirable, her sheer speed enviable, and her personality contagious. Recently, I learned Laurah, an amazingly talented endurance athlete who appears to be the epitome of health and fitness, is a two-time breast cancer survivor—and she's only 29. In honor of Breast Cancer Awareness Month, I asked Laurah to share her inspiring story of how breast cancer changed her and inspired both her career and her fitness goals.
I grew up a
type A
personally. I tended toward routine, was obnoxiously punctual and saw the entire world through Excel spreadsheets and lists. In fact, I was so married to my routines that I even developed the quickest and most efficient way to prepare the perfect pot of coffee. Every morning, I woke up and immediately dove for my coffee pot. I employed a specific set of procedures which resulted in the first bold, sweet, creamy sip of caffeinated heaven rushing over my palate within 3 minutes and 40 seconds, and never deviated from this ritual.
July 25, 2004 was no different than any other morning, but somehow during my distribution of six leveled scoops of Folgers into the coffee filter, my fingertips found themselves palpating a large lump on my right breast instead of steadying the canister of grounds as they usually would.
Was it that? I didn't have this lump yesterday.
Suddenly a wave of panic engulfed my body.
Had the lump been there yesterday? A week ago?
Read More ›
For more than 25 years, October has been recognized as
National Breast Cancer Awareness month
. This is the time of year when the familiar pink ribbons and, in more recent years, pink in general becomes more prevalent in our communities and in the media. Why does breast cancer awareness get so much attention?
Breast cancer is the
most commonly diagnosed cancer in females worldwide
. In the United States, breast cancer is the second most common cause of cancer-related deaths in women (after skin cancer) and is the #1 cause of death in women ages 40-59. In Hispanic women, it is the #1 cause of death from cancer. What this means for you is that most of you either know someone directly or indirectly affected by this potentially life-threatening disease. In fact, 1 in 6 women will be diagnosed with breast cancer in their lifetime,
according to government statistics
. In 2007 in the United States, there were 202,964 new cases diagnosed and 40,598 deaths related to the disease. (Editor's note: Some of you questioned Dr. Birdie's statistics, and she welcomes the debate. These statistics refer to cancer-related
deaths
, not
diagnoses
, and these numbers come directly from the CDC.)
The Importance of Early Detection
Before we learn about what you can do to protect yourself against breast cancer, I want to stress the importance of early detection. How to
prevent
breast cancer will be the focus of many discussions regarding breast cancer this month, but despite your best intentions and lifestyle modifications, you or a loved one may still develop the disease.
Many of the most significant risk factors for developing breast cancer are not in your control: family history, sex and age. I want you to understand that if you have these risk factors you are at a higher risk of developing breast cancer but that the presence of risk factors will not predict
if
you will get breast cancer. So,
the best weapon that we have in this fight so far is early detection
.
Thanks to early detection, many women go on to live long lives. Do monthly self-exams and get your screening mammograms. Screening mammograms typically start at age 50, but some women may need to start earlier based on medical or family history. Please check with your physician by age 40 to determine your screening requirements, as it will be different for every woman. Early detection is crucial to survival. In my opinion, every discussion about breast cancer needs to start with this critical reminder.
Now that we have some very important business out of the way (early detection, self-exams, mammograms!) we can discuss some of the risk factors from breast cancer and what you can do to modify your risk of developing the disease.
Read More ›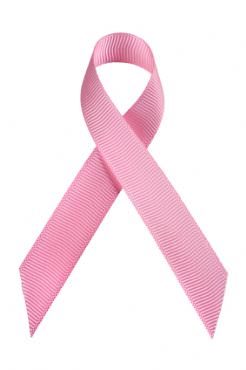 Heart disease remains the leading cause of mortality here in the United States with all cancers following a close second. For women, breast cancer ranks just behind skin cancer as the leading cause of cancer diagnosis. According to recent statistics released from the American Cancer Society, "in 2010 alone, an estimated 207,090 new cases of invasive breast cancer and about 40,230 deaths are expected to occur among women in the U.S."
Twenty-six years ago October was declared National Breast Cancer Awareness Month and it still remains true today. And while researchers are working ardently to find a cure, women cannot forgo doing their share to help prevent and detect this disease by being an active participant in their health care needs.
Because of the alarming statistics regarding breast cancer, the American Cancer Society is stepping up to the plate with a new movement called the
Choose You Commitment.
This program is designed to encourage women to put their own health needs first so that they will be in a better position to help others.
According to a survey conducted by the American Cancer Society, "95% of women stated they needed to do more to improve their health; however 58% of the women surveyed stated they put their health needs behind others." This is why this program was initiated, so that women would be given the resources to take action.
Read More ›
Editor's Note: When our staff recently reviewed some recent exercise guidelines for people with cancer, Beth, a SparkPeople employee and cancer survivor (pictured with her family, left), felt compelled to share her own story with our readers. This is what she wrote.
We all have certain dates that stick in our mind for reasons good or bad. Birthdays. Anniversaries. Holidays. Deaths. The day you got your job. The day you lost it.
Like many Americans, September 11 is one of those days for me—but for more reasons than one.
On September 11, 1993, I married my wonderful husband (now married 17 years strong).
On September 11, 2001, the world watched in horror as suicide terrorists attacked the United States.
And on September 11, 2007, I learned I had breast cancer.
Read More ›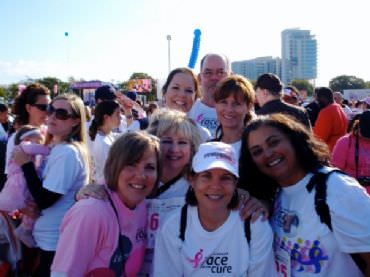 Now that fall racing season is in full swing, this is prime time to lace up your walking or running shoes to raise money for a great cause. Not only are you able to get in shape, but many charities depend heavily on the funds raised from these events in order to help those afflicted with various illnesses and conditions. And since October is
Breast Cancer Awareness month
, I couldn't think of a better way to spend time with great friends for a great cause on a gorgeous Saturday morning!
This past weekend I had the honor and joy of walking in the 27th Annual Dallas Susan G. Komen
Race for the Cure
with my high school classmates. Not only did we have a wonderful time, we were there to embrace life with a classmate who was diagnosed with breast cancer nine years ago. Thankfully she is doing well. What a blessing to share a day with friends and celebrating life as it was meant to be lived!
Read More ›
Girlfriendology
founder Debba Haupert made her debut as a
guest blogger
on the dailySpark last month, when she wrote about the importance of forging friendships, in honor of National Women's Friendship Day! Now that girlfriend guru is back, with plenty of good advice culled from interviews and chats with her own girlfriends.
You probably know a woman who has been diagnosed with breast cancer. There are 2 million breast cancer survivors in the U.S. alone. It is the most common cancer in women in the U.S. and, until a cure is found, the survivors and all their friends will continue to deal with the challenges, fear, sadness and grief that this evil disease can bring.
What cancer also brings is often a confusion or hesitation in how to be a friend to a girlfriend dealing with it. We're scared for our friend, many of us fear our own mortality, and many of us just don't know what to say. So, we do two things:
We talk about it--and hope we don't say the wrong thing.

We don't talk about it--and risk losing our friendships out of fear or uncertainty.
Read More ›
Actress Renée Zellweger is
SELF
magazine's October cover girl. In the article, she talks about facing her fears, running for
breast cancer awareness
, and how her own brush with breast cancer (which turned out to be nothing more than a scare) only reinforced her healthy eating and exercise habits. Here are the highlights.
Read More ›
Women have a one in eight chance of getting breast cancer. However, experts say that regular screenings and early detection substantially increase the rate of survival. Women age 40 and older are encouraged to have a mammogram each year to screen for breast cancer, but if you're underinsured or uninsured, like
45.7 million Americans
currently are, mammograms can be prohibitively expensive.
The good news is that there's help.
Read More ›
For many years now, October has been known as Breast Cancer Awareness Month. This year is no exception. Just walking through my local department store pink is everywhere...from vacuum cleaners to pots and pans to the traditional pink ribbons.
Breast cancer does not discriminate. We are all vulnerable to this disease, women more so than men, but men are not immune. According to the
National Cancer Institute (NCI)
, so far this year alone over 182,000 women and men have been diagnosed with breast cancer; and of that number over 40,000 have succumbed to the disease.
Read More ›
Christina Applegate is now completely cancer-free, after a double mastectomy a few weeks ago, she announced yesterday in an interview with fellow breast cancer survivor Robin Roberts on
Good Morning America
.
Read More ›