10 Lessons on Being a Girlfriend to Someone Going Through Cancer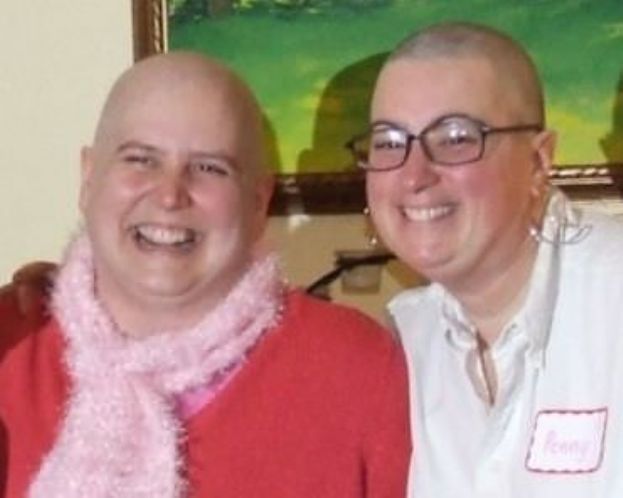 Girlfriendology founder Debba Haupert made her debut as a guest blogger on the dailySpark last month, when she wrote about the importance of forging friendships, in honor of National Women's Friendship Day! Now that girlfriend guru is back, with plenty of good advice culled from interviews and chats with her own girlfriends.

You probably know a woman who has been diagnosed with breast cancer. There are 2 million breast cancer survivors in the U.S. alone. It is the most common cancer in women in the U.S. and, until a cure is found, the survivors and all their friends will continue to deal with the challenges, fear, sadness and grief that this evil disease can bring.

What cancer also brings is often a confusion or hesitation in how to be a friend to a girlfriend dealing with it. We're scared for our friend, many of us fear our own mortality, and many of us just don't know what to say. So, we do two things:


We talk about it--and hope we don't say the wrong thing.

We don't talk about it--and risk losing our friendships out of fear or uncertainty.

In honor and observation of Breast Cancer Awareness Month, here are 10 lessons on being a girlfriend to someone going through cancer, chemotherapy and the incredible stress, worry, fear and emotion it involves.

The lessons come from friends of mine who were kind enough to share their honest opinions and insights. They have undergone treatment for breast cancer and are (very thankfully) living with vitality and determination--which is wonderful. However, this is a very difficult topic for many people, and every woman faces cancer differently, so please take into account that one woman's needs can differ from another's.

Here's how to be a good girlfriend during a difficult time:


Provide encouragement: Sometimes a woman is looking for a friend simply to affirm that she is doing all the right things and that she's going to be OK. Remind her of her strengths and victories, uphold her decisions and encourage her to keep going.


Listen: Listen without judgment, whenever it's needed. Avoid easy answers or telling her to buck up and be strong. There are times when cancer can be overwhelming, and she needs to talk about it. Be the person she needs--and simply listen. Let her process her thoughts aloud, listen and care.


Offer help: Instead of saying, "Let me know if you need anything," ask precisely what you can do. Ask your friend if she'd like you to bring dinner, do laundry, babysit or go grocery shopping for her. Offer to help by doing Internet research on treatments and remedies. Identify what needs to be done and ask if you can help her by doing it.


Cheer her up: Do things that really help and buoy spirits. Knit or buy her a pair of fuzzy pink socks. Give her an inspiring book. Celebrate the end of each treatment with champagne. Give her a gift certificate for a massage or a manicure. Help her deal with the hair loss--take her wig shopping, buy a hat or buff for her or, as my girlfriend Penny did, shave your head in solidarity. (See the photo!)


Be understanding: Plato said "Be kind, for everyone you meet is fighting a hard battle." Your girlfriend is going to have good and bad days, so be patient on those days when she may say something she might not mean or not mean it the way it sounded. She is fighting a life-changing battle and deserves your patience, grace and understanding. Don't take things personally… cut your girlfriend some slack.


Help her communicate: She may not want to talk about cancer all the time. While she'll appreciate your interest in how she's doing, it can be wearing to go through all the details again and again. Help her set up a blog or start a chain phone list for updates.


Laughter is the best medicine: Lend her your romantic comedy movies or books, or take her to a chick flick--just make sure there are no cancer storylines. Send her funny cards or wrap up silly presents so she has fun gifts to open. Be flexible with your time--and jump at the chance to be with her when she's feeling good. Back off when she cancels because she's feeling not so good. Take off time from work if needed (and if you can) to be with her.


Offer inspiration: We all need inspiration, reassurance and optimism. Share stories of people who have gone through the same thing and are doing well years later. It's even better if you can connect your friend with those people so they can talk to them. Never talk about people who have died of cancer or are not doing well.


Friendship endurance: Be in this friendship for the long haul. There are going to be good and bad days, weeks, and months. Be her friend no matter what, and even when the treatments seem to go on forever--that simply means that she's still your girlfriend. Continue to be there for her.


Celebrate life: Look for opportunities to be together, to share memories and moments to remember, go on an adventure or explore together, laugh together and cry together when needed. See the beauty in each day as her friend and let her know that. Celebrate each day of friendship.

And, in observation of National Breast Cancer Awareness Month, remember that early detection is the best protection so practice self-exams and mammograms for your own health. Girlfriends need to remind each other that as well.

We each get to choose the way we respond to life. In the case of having a friend with cancer, we need to be sensitive to her needs and to be available to listen and help her. Yes, we may feel scared, worried or helpless, but this is our time to be a friend. Step up if/when needed and keep your friend laughing, feeling loved and assured that you'll be there for her. That's what girlfriends do.

Girlfriendology is the online community for women based on inspiration, appreciation and celebration of female friendship.

Founded by Debba Haupert in 2006, Girlfriendology inspires women to make new female acquaintances, spend time with their girlfriends, and appreciate those friendships that are vital to women's health and happiness. Girlfriendology.com features inspiring women in semi-weekly podcasts, contests to share girlfriend stories and provides videos, shopping, reviews, blogs and more.

Photos: courtesy of Debba Haupert



You will earn

5

SparkPoints

Like what you read? Learn more

about SparkPeople,

or

sign up

for your free account today!
Got a story idea? Give us a shout!