All Entries For
at the gym
Last month, I joined a new gym. (So did my boyfriend, and we hope to
work out together
more often.) Each new member is offered one free session with a personal trainer.
The reason I wanted to join a gym is because although I exercise regularly--I run three times a week and practice yoga most days--I (gulp) skimp on strength training. Though I do build strength with yoga, I know I need to add some cross-training to my regimen. My excuse: I'm busy! But, by rejoining a gym, I have committed to strength training at least twice a week. So far, I've stuck with that goal.
I arrived at the gym, ready to work out. The trainer started with a fitness assessment. My body fat had dropped a half-percent since April (yay!), and my weight was about four pounds higher (I was wearing shoes, but I haven't been running as much in this heat). I felt pretty good about myself. And then we started talking…
The trainer asked me a little about my fitness background:
"Well, I haven't been to a gym since last fall…"
"Last fall?" he asked, his brow furrowing.
"Yes, but I'm a yoga instructor and I've been training for various races. Between running and yoga, I didn't need a gym. I work out at least five days a week."
Trainer wasn't pleased, but he moved on.
"Why aren't you in the best shape of your life?" he asked.
I cleared my throat, contemplating my answer.
Read More ›
I can't remember how I first heard about the
TRX suspension trainer
, but this portable piece of workout equipment caught my eye a few years ago. I continued to see it make appearances on shows like "
The Biggest Loser
" and in my fitness magazines, so I figured it was time to give it a try. When I contacted the company about receiving a product to review, they were happy to indulge us. (Hey, this job does have a few perks!)
It's difficult to describe the TRX to someone who has never seen it in action. It look like nothing more than a big band with handles and loops on the ends. So what's the big deal—and how do you use it?
Read More ›
When economic times are tough, consumers have to find ways to tighten their wallets and trim spending. Although gym memberships and fancy home equipment are nice to have, often they become something we can no longer afford. According to new research, Americans have been trimming their workout budgets and opting for cheaper ways to get active.
Read More ›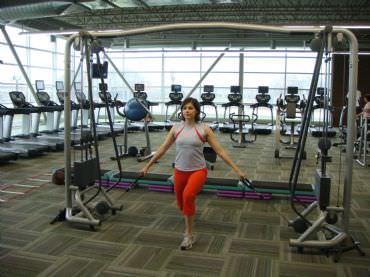 A few years ago, you would have been more likely to find me in the weight room than on a treadmill. I loved strength training; I would have done it daily (in lieu of cardio) if possible. But something changed more recently that has me enjoying cardio more and strength training less. Maybe I'm getting bored with the weights, machines and same-old exercises after doing some variation of the same moves since I was a teenager. After all, there are only so many ways you can work your biceps.
But there is one mode of strength training that I almost always enjoy, even when I don't feel like spending time at the gym. It's the cable cross (or cable "crossover") machine. (It's pictured above.) Most gyms have this universal piece of equipment, but I'd venture to guess that most people aren't sure what it's for or how to use it. In fact, the cable cross may be the most intimidating machines at the gym. Don't let this big machine fool you, however; it's deceptively easy to use. Here are seven
reasons you should try
it yourself, plus tips and workouts you can start with.
Read More ›
September is
National Yoga Month
, so there's no better time to summon the courage to give it a try. You've heard all about how yoga can help increase flexibility, decrease stress and even relieve minor back pain. You've dispelled the myths that all yogis are human pretzels who wear skimpy clothes and patchouli.
Now it's time to find a yoga studio or a class at your gym and head to class.
In my classes, I always try to approach new students before class begins to ease any apprehension they might have and answer questions. Here's a primer to help you feel right at home on the mat! While yogis are known for their kindness and compassion, no one wants to make a fitness faux pas!
Shoes
Yoga is practiced barefoot, so be prepared. There's no need to get a pedicure for the occasion, but I like to give my feet a quick rinse before class, especially if they've been cooped up in closed-toe shoes all day. You spend a great deal of time focusing on gripping your feet, spreading your toes and evenly distributing your weight over your entire feet. Sweaty, dirty feet stick to yoga mats, and if you have lotion or cream on your feet, you can slip.
Wear whatever shoes you'd like to the class, but take your shoes off before entering the yoga room. Most studios have shelves for shoes either just inside the door or in the lobby. At a gym, most people take off their shoes as they enter the room.
Read More ›
You want to be a fit person, right? That's why I'm sharing my own habits for keeping fit and staying healthy in the ongoing
Habits of Fit People
series.
Here's one that works for me: Leaving my fitness gear in the gym locker room.
I don't mean paying extra for a locker where you can stash your stuff overnight. I mean leaving it at the gym so that you
have to
return to get it—and therefore work out. So why does something like this matter?
Read More ›
This morning I was reading a New York Times story about some unorthodox workouts. From yoga using hammocks to cardio pole dancing, it seems there are some pretty original and outlandish fitness classes these days.
And Equinox gyms are offering a class that might inspire you to run off and join the circus: Jukari Fit to Fly.
According to the NYT
:
"The word Jukari is derived from the Sicilian word "jucare," meaning "to play," and the class, which was introduced in June in 14 cities, was developed through a partnership between Reebok and Cirque du Soleil.
The redheaded Equinox instructor, Sara Haley, said that Reebok sent her as a "guinea pig" to Cirque du Soleil's Montreal base last year to see if any of its acrobatic equipment could be adapted for the gym. A team at Reebok and Cirque du Soleil then refined the recommendations and the result is the specially designed FlySet, which is like a trapeze, "but the ropes are way thicker, safer," she said. "
Sounds neat, doesn't it? But is it a good workout?
Read More ›
As long as I can remember, I was into fitness. I was an active child, athletic and competitive, always trying new sports. Even as a teenager, I loved lifting weights, trying challenging workouts and pushing myself physically. I remember when I was about 17 years old, I read a small blurb in a fitness magazine that talked about this workout called Spinning. It mentioned that it was a major calorie burner (somewhere near 600 calories per hour, if I remember correctly), and that it was a great workout. "What is this
Spinning
thing," I wondered. Whatever it was, I was definitely going to try it.
By the time I moved away to college a few months later, I got my wish. Not wanting to gain the notorious freshman 15, while trying to maintain a good level of fitness (without the aid of the after-school sports practices I was accustomed to), I started going to the university rec center and tried Spinning for the first time.
That magazine was right. It was intense and challenging. But they didn't tell me that I'd be so sore for a few days (from sitting on that rock hard seat known as the "saddle") that I'd barely be able to sit on my cushioned desk chair in my dorm room—ouch! Despite the challenge (and the discomfort), I made it to Spinning class three times a week and I was hooked. Fast forward a few years later, and I became a certified Spinning instructor myself so that I could share my love of Spinning with others.
I believe that Spinning, which is an indoor group cycling class, is something that people of all ages and fitness levels can benefit from—I've seen it myself and in my students. If you think Spinning isn't for you or tried it and didn't like it, here are 6
reasons to try
Spinning that will change your mind.
Read More ›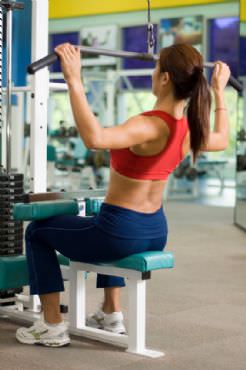 Last week while I was at the gym, a gentleman in his 60's got on the treadmill next to mine reeking of Aramis cologne. The only reason I knew the scent was because it is the only cologne my father-in-law has worn for the past 25 years. Let me tell you the scent was so strong that I literally had to get off my treadmill and move to one several rows away. I could hardly breathe it was that strong. This got me to thinking that this subject just might make for a great blog.
Read More ›
A few months ago, I blogged about how "
fit people
" are usually in the habit of
working out when they travel
. It's a good habit to have, because exercise should be a permanent part of your healthy lifestyle, even when you're on vacation. I know that I plan for fitness, packing my workout shoes or portable equipment whenever I'll be away from home; and from the sounds of it, lots of you do, too.
This past weekend I was in San Diego for the
Spark Your Life Convention
, which kept me away from home (Ohio) for a few days. It was my fist work-related trip, believe it or not, and even though it was short—just two nights in a hotel—I planned for fitness by packing my workout clothes, shoes, and iPod. Before I left home, I checked the hotel website—Hooray! They had a gym, and I planned to exercise there on Friday after arriving to my hotel.
I got to my lovely room, checked my little book of "guest services" to find the gym's location and hours. It was open, so I got dressed and headed downstairs only to find the gym with its doors locked. I turned to the staff person at the desk behind me, and she informed me that I had to fill out a waiver…oh and I had to pay $15 per day to use the gym!
That led me to wonder: How much would YOU pay to use a hotel gym?
Read More ›
Wouldn't it be great if you could buy a machine for a few hundred dollars, plant it in front of your TV set, and stand on it for a couple hours per day while it did all the work necessary to burn calories, build muscle, and lose weight?
If you like to browse the web for new weight loss and fitness products, you've probably seen advertisements for
Vibration Training machines
, along with claims that these machines can work wonders for your weight loss. You may even have seen one of these machines in your gym.
Vibration Training (also called "acceleration training") is definitely a "big thing" on the fitness scene these days. But does it work, or is it just another gimmick?
At this point the verdict is still out on what Vibration Training can actually accomplish. But there are some things we do know:
• It's not just a money-making gimmick. Vibration training does have serious scientific support, and can be very useful for
some purposes
when done properly and with high quality equipment.
• Many of the machines on the market now, especially the cheap ones, ARE just gimmicks. The claims manufacturers make, especially about their weight loss advantages, are false, and following their recommendations can actually be dangerous to your health. Many of the cheap machines can't deliver even on the legitimate benefits of vibration training.
• You
definitely should not
buy a cheap machine, plant it in front of your TV, and plan to spend hours on it to speed up your weight loss. That could cause serious health problems, and won't do anything at all for your weight loss.
Here's some information you can use to separate the fraudulent claims from the ones worth investigating, and decide whether Vibration Training might be something that could be right for you.
Read More ›
I recently read
an article about women-only gyms
, which are growing in popularity. According to the story, "Studies have shown that self-conscious women who exercise in same-sex environments are more willing to work out, and more satisfied with their workouts." It made me wonder:
Would you join a same-sex gym?
Read More ›
Actress Renée Zellweger is
SELF
magazine's October cover girl. In the article, she talks about facing her fears, running for
breast cancer awareness
, and how her own brush with breast cancer (which turned out to be nothing more than a scare) only reinforced her healthy eating and exercise habits. Here are the highlights.
Read More ›
If you spend much time in the gym, you're probably familiar with the "mirror muscle" crowd. They're the guys who spend most of their time doing exercises that work the upper body muscles you can see while looking in the mirror—chest, abs, shoulders, biceps & triceps, and upper traps. They don't do nearly as many exercises for the opposing muscles—the lats, lower trapezius, rear deltoids, rhomboids, or lower back. You might see them on the leg press or Smith machine once in awhile doing a little lower body work, and maybe they'll spend 15 or 20 minutes doing cardio a couple times per week. But you won't see them doing lunges up and down the aisles between machines, or find them in the yoga, pilates, or fusion classes—that stuff's "just for women." Big mistake!
Read More ›