I Tried It: Arnold Select 100% Whole Wheat Sandwich Thins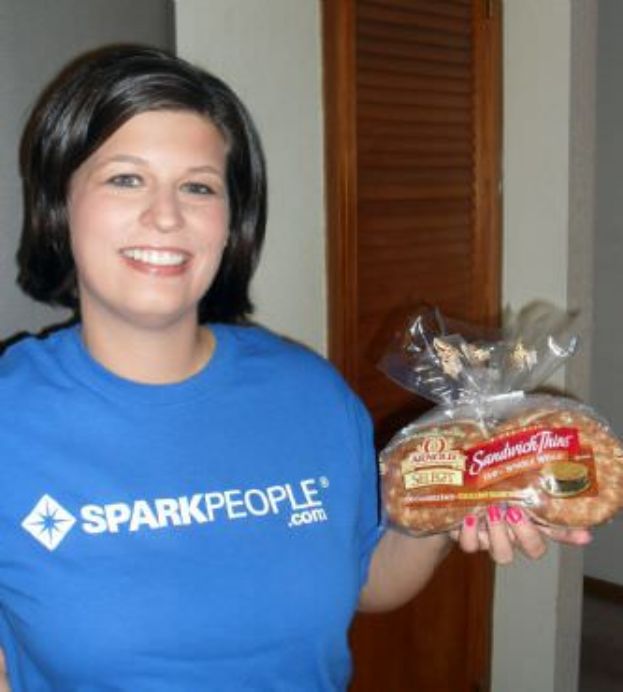 We're kicking off a new feature on the dailySpark: food reviews written by you, our loyal readers!

Jessica Dudley aka MRSDUDLEY celebrated her first Spark-versary on July 7! Shortly before that remarkable day, she wrote the dailySpark to share with us a new product that she just loves. She wanted us to review it, but we asked her to do the honors, as she has such an affinity for this product. Read on to learn more about the food that gave bread the boot in her house!

By Jessica Dudley

What is the product called?
Arnold Select 100% Whole Wheat Sandwich Thins. They are also available in Multi-Grain, Whole Grain White, and while I have not seen them in the store, their website shows them being available in Seedless Rye. (yummy...I'm thinking Reuben)

Where did you buy it?
Super Wal-Mart in Collinsville, IL (10 minutes east of St. Louis, MO)

How much did it cost?
$2.68

How did you eat it?
I first used the sandwich thin as the bun of my now favorite grilled turkey burger. (Editor's Note: Find the recipe here!) In order to get my cheese fix and my love of mayo on a burger, I use a wedge of Light Garlic & Herb Laughing Cow Cheese and spread it across the bottom and top bun. I then snuggle my grilled turkey burger along with a thick juicy slice of tomato and some nice crisp lettuce inside the sandwich thin. WOW....simply amazing!




Since then I've had several very successful experiments with the Arnold Select Sandwich Thin. Here are a few:

Mini pizzas: Using each side of the roll as the bottom "crust" of my pizzas, I use about 1T of pizza sauce on each, I then divide 1 serving of turkey pepperoni and 2% shredded mozzarella on top of them both....zap it in the microwave for about 30-45 seconds...voilą! Two individual pizzas all to myself! Great for lunch at work!

Breakfast: I use it in place of an English muffin or toast and it's great with my scrambled eggs. I also love a good ole' egg sandwich. The protein from my eggs along with the whole grains in the Sandwich Thin are sure to hold me over all the way until lunch.

Peanut Butter and Banana Sandwich: I don't think there is much explanation needed, but wow, is it good.

Hot Ham and Cheese Sandwich: Again, no explanation... just pure ooey gooey goodness.

They hold up FANTASTIC on a panini press and that pretty much makes the possibilities ENDLESS!

Why did you like it?
Like them...I love them! Truly what isn't there to love? It's conveniently pre-sliced, only 100 calories, 100% whole wheat, no HFCS (high fructose corn syrup), 5g of fiber and most importantly.......THEY TASTE GREAT!!!!

I love the fact that I can have my bun and eat it, too! I normally come across a whole wheat bun only to discover that the bun itself is so big that it has around 300 calories in it and because they are so large you practically need a half pound burger to fill it! Geesh...talk about racking up the calories! With my now favorite grilled turkey burger the total calories come in right around 300 for the ENTIRE burger, which leaves room for a side dish too! (By the way...also try out the Rice Roni Lower Sodium Chicken Flavored Rice Mix.) Normally I am not a heel of the bread kind of gal; however, that is kind of what these remind me of, but WAY better. It really is the BEST thing since....well.... sliced bread. Try them out today!

Don't forget to try Jessy's simple turkey burger recipe. It's this week's Speedy Supper!

Have you tried this product? Would you? If you're seriously interested in sharing your favorite healthful food product with the dailySpark, send a SparkMail to SP_STEPF. (Serious inquiries only, please!)




You will earn

5

SparkPoints

Like what you read? Learn more

about SparkPeople,

or

sign up

for your free account today!
Got a story idea? Give us a shout!