All Entries For
whole grains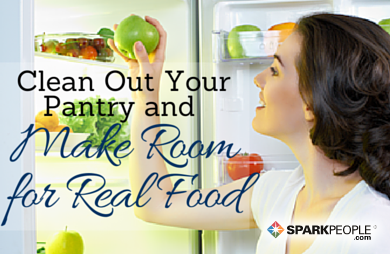 How many times a day do you open your pantry or fridge hoping that something new, healthy and filling will appear? Does your kitchen seem messy, cluttered and full of unhealthy foods? Do you want to make over your pantry and fridge, but aren't sure where to start?
We are here to help! Make a pledge to rid your pantry and fridge of unhealthy items and to re-stock it with real foods using the following doable steps.
Part with the Unhealthy Non-Perishables
It's easy to promise yourself that you'll eat better, but you're setting yourself up for sabotage if you don't physically remove the unhealthy foods from your house. Go through every single item on your kitchen shelves and get rid of or donate anything that is overly high in sugar, sodium, artificial colorings or preservatives, or with a long laundry list of ingredients that you can't pronounce. Many condiments fit this bill—consider how much you and your family enjoy them and whether or not you can find substitutions for these items. Only keep those foods that you truly think you can continue to eat in moderation.
Read More ›
Fiber plays an important role in your health. Most adults need to eat between 25 and 35 grams of fiber each day. (To learn more about fiber sources and health benefits, read
Figuring Out the Facts on Fiber
.) Despite all its health benefits, you can overdo it on fiber. Eating more than 50 grams of fiber a day might…
decrease the amount of vitamins and minerals your body absorbs, among them zinc, iron, magnesium, and calcium.
move food through the digestive tract too quickly for some nutrients to be absorbed properly.
cause gas, diarrhea, bloating, diarrhea or stomach discomfort.
decrease your appetite for other nutrient-rich foods that are needed by the body for proper health.
Read More ›
Simple carbohydrates are composed of one or two sugar units that are broken down and digested quickly, which can leave you feeling tired, hungry, and craving more sugar shortly after you've eaten. Recent research has shown that certain simple carbohydrate foods can cause extreme surges in blood sugar levels, which also increases insulin release. This can elevate appetite and the risk of excess fat storage.
Simple carbs are mainly added sugars, which have very little nutritional value. They are considered "empty" calories. Types of simple carbs are soda, sweet breakfast cereals, candies, high fructose corn syrup, and more. Fruit is also considered a simple carb, but it is a naturally occurring sugar that is packed with many nutrients.
Complex carbohydrates (also referred to as starch) are made up of multiple sugar units and are found in both natural (brown rice) and refined (white rice) forms. They are structurally more complex and take longer to be broken down and digested, which allows you to feel full longer and gives you lasting energy. Complex carbohydrate foods have been shown to enter the blood stream gradually and trigger only a moderate rise in insulin levels, which stabilizes appetite and results in fewer carbohydrates that are stored as fat.
Choosing the right foods isn't always as simple as choosing complex carbohydrates over simple ones. Case in point: White bread is highly processed but is a complex carbohydrate, and many fruits, which are wholesome and natural, are simple carbohydrates. Certain foods that contain complex carbohydrates, such as white potatoes, quickly raise blood sugar levels, while some foods that contain simple carbohydrates, such as whole fruit, raise blood sugar levels more slowly.
So which should you choose?
Read More ›
Editor's Note:
I met Nicki Sizemore while we were working on some new videos for the site earlier this summer. She's a new culinary instructor and food stylist and writer who's also a new mom. Nicki is passionate about healthy living--her whole face lights up with enthusiasm when she talks food. I asked her to write a guest blog post for dailySpark. Enjoy!
We all know the benefits of eating more vegetables and whole grains, from shrinking our waistlines to warding off chronic diseases and cancer. If like me you have a busy job and a family to feed, however, getting whole, unprocessed foods on the table every night can seem daunting. Well, forget about falling back on processed foods or take-out! With these simple tips, you can throw together quick and delicious meals from scratch that are brimming with veggies and whole grains,
any
night of the week.
Plan Ahead
We've all done it—purchased an armload of produce at the market with no idea of what we're going to make, only to watch it wither away, untouched, as the week passes. One way of ensuring that all of the produce you buy actually makes it to the table instead of ending up in the compost heap is to plan out the dishes that you're going to make throughout the week ahead of time, either before shopping or right after you get home. It only takes a few minutes, but it will increase your chances exponentially (at least that's my calculation) of actually eating your vegetables.
You can get as detailed with this as you want ("stir-fry with sautéed eggplant, spinach and cashews on Monday") or keep it general ("stir-fry one night, pasta one night").
Then, when you get home on Wednesday night, instead of looking in the fridge and seeing a whole bunch of random stuff, but nothing to make (you know what I mean), you'll know instantly that you're making a frittata with the fingerling potatoes and mustard greens, and you'll get right to work instead of picking up the phone for pizza.
Read More ›
There are many
cost effective and nutrient rich foods
. Brown rice is one choice frequently selected as a side dish or to stretch a casserole. We have known for a while that fruits such blueberries and blackberries are high in
antioxidants
. New
research presented at the American Chemical Society meeting
has found that black rice might top them both in the cost effective nutritious super food category.
Read More ›
The dailySpark reader PCGOTMOOSE recently asked about the Whole Grains Council and the significance of their emblem on products at the supermarket.
According to a
2007 Hartman Group report
, a majority of shoppers are aware of and trust packaging symbols such the American Heart Association
heart-check mark
, the U.S.D.A.
Organic Symbol
, standard
Recycling
symbols and the Whole Grains Stamp.
The Dietary Guidelines for Americans issued in 2005 recommends three whole grain servings or more per day. Likewise, the U.S. Department of Agriculture and U.S. Department of Health and Human Services define a complete serving as one that contains at least 16 grams of whole grains. The
Whole Grains Stamp
is not new but it can assist you in your quest for healthier eating.
Read More ›
Sometimes the world works in mysterious ways. You know that when we review foods, sometimes we get sent the food, sometimes we ask for it, and other times we buy it at the supermarket. This is a combination of the three.
Our fabulous, cheerful and radiant office manager
Kelly
does the shopping for the SparkPeople team, and she stumbled upon microwavable cups of
brown rice
. We are huge fans of brown rice, but it's not exactly easy to make in our kitchenette. While it's nicely equipped and very generously stocked, we don't have a stove, and it would be really hard to make in a microwave.
She started adding these rice cups, cans of black bean and jars of salsa to the list in recent months, which makes for a tasty and satisfying lunch in no time flat. (Especially when topped with some cheddar cheese or diced avocado and plenty of hot sauce--yum!)
I put the Minute Ready to Serve Brown Rice on my list of foods to review and snapped a couple of pictures of the rice we had in the pantry. Then, Minute's press rep contacted me and asked if I'd like to try some of the company's brown rice and wild rice products and host a giveaway. It's like she read my mind!
Read More ›

Carbohydrates are important and necessary in our diets and have generated a great deal of attention over the past decade due to the low carbohydrate weight loss craze. Marketing trends have played off of that low carb craze and so have dieting plans that count "points" and provide different "rules" based on what carbs are being consumed. Could this confusing information and marketing ploy be affecting your weight loss success?
Read More ›
We're kicking off a new feature on the dailySpark: food reviews written by you, our loyal readers!

Jessica Dudley aka MRSDUDLEY celebrated her first Spark-versary on July 7! Shortly before that remarkable day, she wrote the dailySpark to share with us a new product that she just loves. She wanted us to review it, but we asked her to do the honors, as she has such an affinity for this product. Read on to learn more about the food that gave bread the boot in her house!
By Jessica DudleyWhat is the product called?
Arnold Select 100% Whole Wheat Sandwich Thins
. They are also available in Multi-Grain, Whole Grain White, and while I have not seen them in the store, their website shows them being available in Seedless Rye. (yummy...I'm thinking Reuben)
Read More ›