Healthy Recipe: 200-Calorie Homemade Mac and Cheese!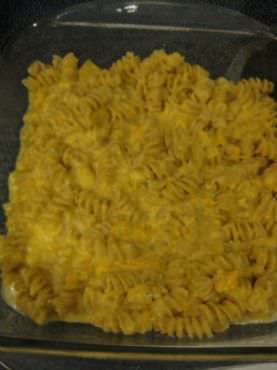 Nicole found this recipe on another blog, YumSugar, and I immediately wanted to try it. I made it for our SparkPeople pre-Thanksgiving potluck. (It was a hit!) Butternut squash is puréed with milk and vegetable broth and mixed with three kinds of cheese to create a rich, decadent, and slightly healthier dish. This might just find a place on my Thanksgiving menu!

The recipe, which originally came from Martha Stewart, has 200 calories and fewer than 6 grams of fat per serving.

An alternate title for this blog post could be: So you think you hate vegetables/How to love butternut squash. I happen to love this particular winter squash, but if you have a finicky eater, this recipe is a great way to sneak in some vegetables. Each serving has just shy of a serving of vegetables. You could definitely use more squash to boost the vegetable content.

You can also use this trick with boxed macaroni and cheese. The squash is already orange (thanks to the beta-carotene and other antioxidants!) so the kids won't know it's in the mac and cheese!

I made a few tweaks to the recipe: I substituted vegetable broth for chicken broth, used whole wheat pasta to add a couple of grams of fiber per serving, and diced the squash to cut down the cooking time. Read on to get the recipe!

Click the recipe for full nutritional info: Butternut Squash Macaroni and Cheese

INGREDIENTS
1 small butternut squash (about 1 pound), peeled, seeded, and diced (about 3 cups)
1 1/2 cups low-sodium vegetable broth
1 1/2 cups nonfat milk
1 clove of garlic, smashed
Pinch of freshly grated nutmeg
Pinch of cayenne pepper
3/4 teaspoon coarse salt
Freshly ground black pepper
1 pound whole wheat spirals
4 ounces extra-sharp cheddar cheese, finely grated (about 1 cup)
4 tablespoons Parmesan cheese, finely grated (1 ounce)
1/2 cup part-skim ricotta cheese
2 tablespoons fine breadcrumbs
1 teaspoon olive oil
Olive-oil cooking spray, to grease baking pan

DIRECTIONS



1. Preheat oven to 375 degrees Fahrenheit. Bring a large pot of water to a boil. Combine squash, garlic, stock, and milk in a medium saucepan; bring to a low boil over medium-high heat. Reduce heat to medium; simmer until squash is tender when pierced with a fork, about 20 minutes. (Dicing reduced this time to 10 minutes.) Remove from heat.

2. Add noodles; cook until al dente according to package instructions, about 8 minutes. Mash contents of saucepan; stir in nutmeg, cayenne, and salt, and season with black pepper. Stir to combine.



3. Drain pasta, and transfer to a large bowl; stir in squash mixture, cheddar, ricotta, and 2 tablespoons Parmesan. (Honestly, you could also stop here. My boyfriend and I ate some of the pasta last night, and we skipped the step of baking it. It was more decadent and creamy as the baked version, but it lacked the crunchy topping. Eliminating the breadcrumb topping will cut half a gram of fat and 11 calories a serving.)



4. Lightly coat a 9-inch square baking dish (4 inches deep) with cooking spray. Transfer noodle mixture to dish.

5. In a small bowl, combine breadcrumbs, remaining 2 tablespoons Parmesan, and oil; sprinkle evenly over noodles.

6. Cover with foil, and bake 20 minutes. Remove foil, briefly broil to toast breadcrumb topping. Serve immediately.

Serves 8.

Per serving:
Calories: 200.0
Total Fat: 5.8 g

Pardon the blurry photos of the finished product. I was in hurry to eat!
Will you try this recipe? How do you slim down macaroni and cheese?



You will earn

5

SparkPoints

Like what you read? Learn more

about SparkPeople,

or

sign up

for your free account today!
Got a story idea? Give us a shout!