Finally! An Entertaining Kids Show with a Healthy Focus!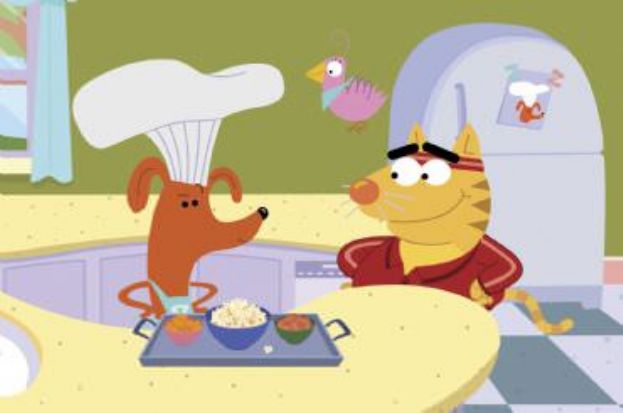 By SparkPeople member Michelle Alfert (LAPOCHITICA)

Over the summer, I have been working with more than 80 elementary kids in a summer day camp program. About two weeks into the summer, a few of my 5th graders began joking about some Zefronk character.

Given our obvious age gap, I merely smiled as they hummed some diddy and attempted French accents. Of course, it wasn't long before I was dragged into the conversation given my terrible impersonation of a French accent. So who is Zefronk? I have to admit, I thought he was Zac Efron. Isn't he the preteen obsession right now? False!

Two weeks later I visited home and was bombarded by my very own sister--almost 12 herself.

"Michelle! Have you seen Zefronk?!" So I take it this was not Zac Efron.

"No, but I've heard of him."

"You have to see it!"

Right then I was led to the TV where she so conveniently had every episode DVR'd. I kid you not--my sister is the cool kid at school, but she sang and danced to the entire opening song. I guess that was the hum diddy.

So if, like me, you haven't caught on, Tasty Time with Zefronk is a Playhouse Disney cooking show featuring an animated Dachshund host. (Visit the website.) Also appearing on the show is his assistant, Sue the songbird, and sneaky Dom, the cat with a habit of stealing Zefronk's snacks. The animation is not particularly amazing, and the plot is fairly repetitive. Still, there is something ingenious to this 15 minute show that even grown-ups can enjoy.

With all the negative influences on television today, here's one that's positive!
15 Reasons You and Your Children Should Watch Zefronk:



Tasty Time specifically targets child obesity. Statistics for 2009 show that one in every three kids in the U.S. is overweight or obese, an epidemic that has nearly tripled in the past 30 years.


Tasty Time offers an alternative to high sodium, processed snacks. Say goodbye to candy bars and potato chips.


The snacks are simple for children to make. Older kids can make most recipes alone, which may stimulate independence.


All recipes can be easily altered by substituting ingredients. This lets your kids express their creativity.


On average, recipes take about 5 minutes to prepare. Only one recipe so far has required any cooking.


Zefronk emphasizes when parent help is needed. Luckily, most recipes are simple enough for any child over age 8.


Instructions are repeated at least three times using different learning styles. That means every child will understand the lesson in their unique way.


All recipes are clearly summarized with three easy to remember words.


The consistent plot pattern engages young viewers and stays focuses on the cooking lesson.


Children easily identify each character's humorous personality traits, from Zefronk's accent to Dom's trickery.


Zefronk never forgets cleanliness and features a fun song for washing hands.


Zefronk encourages sharing, despite Dom's continual attempts to steal his tasty treats.


Your children will be singing along to Zefronk's catchy tunes at school, in the car, and in front of the TV. They won't be able to stop thinking about cooking.


The show promotes math, literacy and science skills. Encourage your children to measure and count all ingredients as you practice these recipes. Use Tasty Time's online cookbook for fun reading while observing how different ingredients react as they cook.


Did I mention, Tasty Time With Zefronk is simply a fun solution to teaching children about nutrition?!



I can't stress how amazed I am by this short children's show. I find myself asking, "Why didn't anyone figure this out before!?" It's about time children's networks focus on child obesity and target this American epidemic where it starts. I'm not trying to advertise, but I applaud the creative minds in charge here.

To finish my story, my sister surprised me later that day by offering me half of her "Banana Dog" l(earned from Zefronk's show). Her exact words were, "Let's split it like Zefronk and Dom do." Did I mention she made it by herself? I don't know about you, but that is awesome to me!



Michelle Alfert currently attends Texas A&M University as a third year Biochemistry/Genetics major. She hopes to pursue medical research with a focus on autism and other neurological disorders. During her free time, Michelle enjoys practicing the piano and classical voice.

After joining SparkPeople recently, Michelle plans to spend more of her time learning about health. With professional aspirations in a health-based career, Michelle's goal is to lose 49 pounds by February 2010. As a driven college student, Michelle is motivated by knowledge and understanding. Therefore, her plan for weight loss is to absorb as much information available that may help reach her goal.

Isn't this fabulous? Has anyone else seen "Tasty Time"? Are you inspired by our children learning healthy habits?

(Photo downloaded with permission from Disney/ABC Media.)



You will earn

5

SparkPoints

Like what you read? Learn more

about SparkPeople,

or

sign up

for your free account today!
Got a story idea? Give us a shout!