Once your dog or puppy has been trained to walk on a leash, and you know he has the stamina to keep up with you, it might be time to consider a specialized leash or harness for the sport or activity you enjoy together.

The Best Leashes for Running

You don't necessarily need a special leash for running, but there are several hands-free leash options that can make your run easier and more enjoyable. The following options combine a leash with a waistband worn by the human. Some even include pockets to hold your phone or music player. Note: Most hands-free leashes are not good choices for reactive or hard-to-control dogs.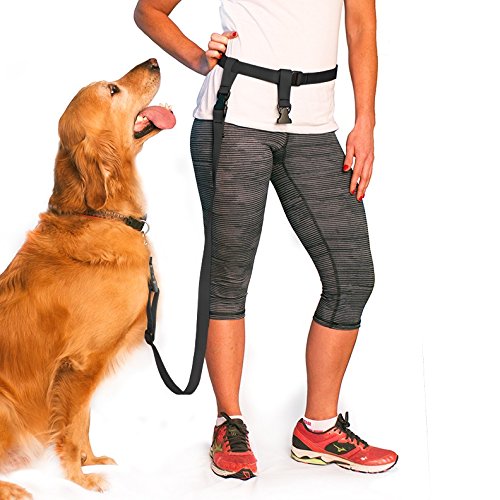 The Buddy System Belt and Leash: This simple system lets your dog run beside you without getting tangled in your feet.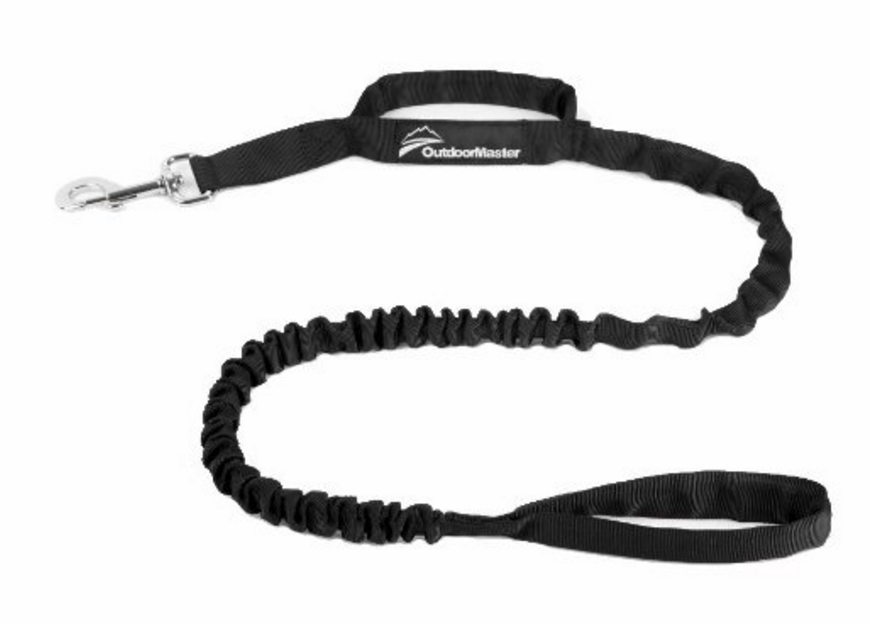 OutdoorMaster Bungee Dog Leash: This is another simple leash/waistband combo, but it comes with a built-in shock-absorbing bungee section.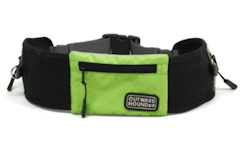 Outward Hound Hands Free Leash: This leash puts more emphasis on the waistband, which features both front and side pockets, as well as a mesh water bottle holder and D-rings on each side to connect the included leash or optional accessories like a treat holder or collapsible water bowl.
 
The Best Leashes for Biking

Running alongside your bike may be the best way to allow a very energetic dog to get enough exercise without wearing yourself out. You'll need a special leash that attaches to your bike in order to do this safely. Trying to hold onto a regular leash and steer your bike at the same time is asking for trouble and can spell disaster for the rider or the dog. Try these bike-friendly leashes instead.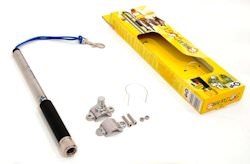 Walky Dog Hands-Free Bicycle Leash: This leash system includes a rod that attaches near the rear of your bike to keep the dog a safe distance away from the wheels. It includes installation instructions with tips for the proper placement for different sized dogs.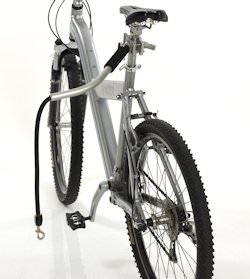 Cycleash Universal Bicycle Dog Leash: This is a similar leash system, but the rod is curved downward and is meant to be attached just beneath the bike seat. It can even accommodate two dogs at once, one on either side.

If you enjoy biking, but your pet is too old or small to run beside you, you can still bring him along for the ride with a dog-friendly basket or trailer.



Bike Tow Leash: This sturdy bar attaches near the rear wheel of the bike. It is recommended that the bar be coupled with a harness (not a collar) to reduce the amount of pulling on the dog's neck. This leash is designed to allow the dog to actually pull the bike if he has even more energy to burn.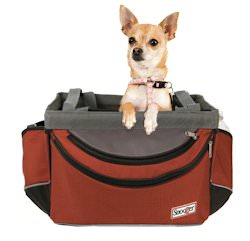 Snoozer-Sporty Pet Bike Basket: This polyester basket attaches to the handlebars of your bike and is suitable for cats or small dogs up to 14 pounds. It has side pockets for storage, an inner clip to secure your pet and a detachable rain cover. The weight of the animal and any sudden shifts in their position can make steering more difficult, though.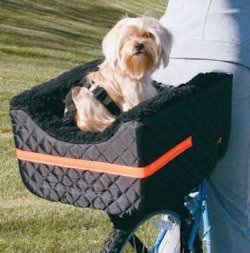 Snoozer Pet Rider Rear Bicycle Seat: For dogs up to 24 pounds, this basket attaches to the rear of the bike. (You'll want to install a rear rack first.) Because of its location, it won't interfere with steering.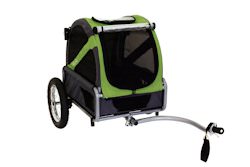 DoggyRide Mini Dog Bike Trailer:  For multiple small dogs or a single animal up to 55 pounds, this trailer attaches to the rear axle and is pulled directly behind the bike. It includes a safety flag so motorists will see the trailer, as well an internal leash system to secure the dog.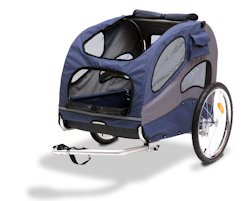 Solvit HoundAbout II Pet Bicycle Trailer, Large: Finally, for dogs up to 110 pounds, this aluminum trailer can also be turned into a pet stroller with a conversion kit (sold separately).

The Best Leashes for Walking Multiple Dogs

Wrangling two or more dogs on a walk or hike can be tricky, but there are plenty of tools to make it easier.

Big Do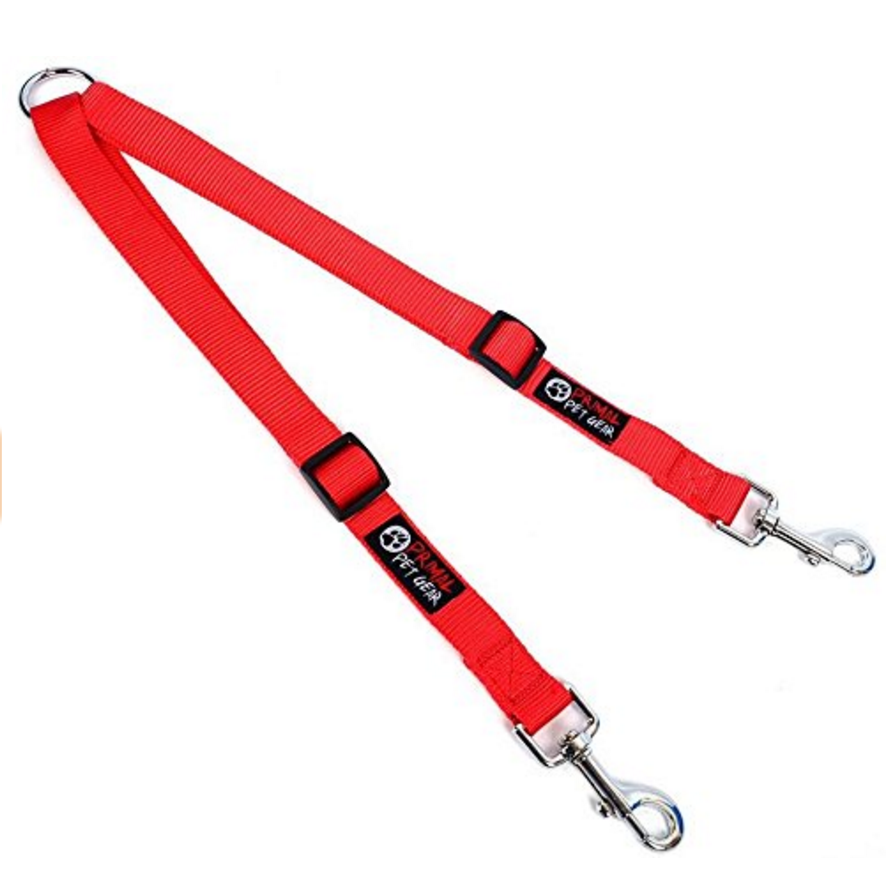 g Pet Leash Coupler: This extension can be clipped on to any kind of lead to turn it into a double leash. This kind of coupler is easy to find, just make sure it's rated for your dogs' combined weight.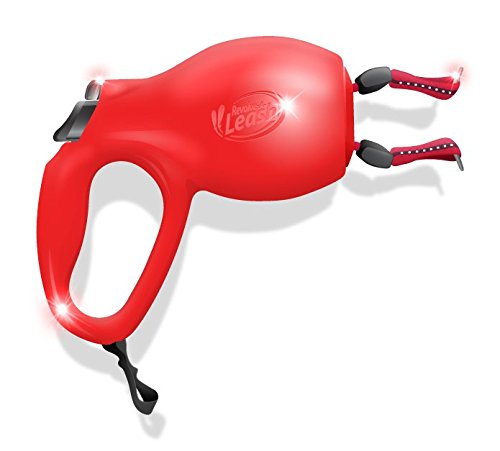 Revolve-a-Leash Two Dog Leash: Specially designed to walk two dogs at once, this leash features color-coded retractable leash cords for each dog.




The Best Leashes for Pulling Sports

If you plan to train your dog to pull you on rollerblades or skates or to pull a wagon, you'll need a comfortable harness that will distribute the load evenly across the dog's chest and shoulders, rather than on his neck. (If you're going to explore more involved winter sports like dog sledding or skijoring, you'll want to find an experienced outfitter that offers the highest quality gear specially designed for dog sports.)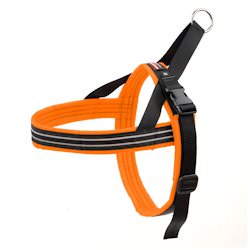 PetPDC ComfortFlex Sport Harness: This harness is available in multiple sizes. Measure your dog carefully to choose the right one. It features reflective stripes to make your pet more visible in low-light situations.






Web Master Harness: This is a multi-use harness that is designed to help lift dogs over obstacles while hiking. But it also evenly distributes pressure, which makes it suitable for pulling.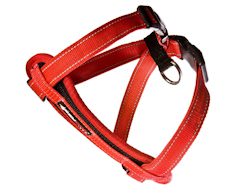 EzyDog Chest Plate Harness: This durable harness also includes a seat belt car restraint for extra safety riding in the back seat.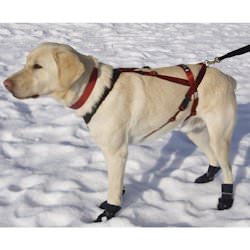 Ultra Paws Adjustable Pulling Harness: This is an entry-level harness for dog-pulling sports. You can begin with this affordable option to make sure your dog enjoys the activity before you invest in heavier-duty equipment.
 


Whatever type of activity you enjoy, there are ways to include your dog safely by using the right leash or harness. Watch your pet for signs of fatigue and always have fresh water handy for you and your canine companion, especially if the weather is warm.