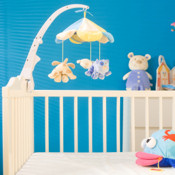 When decorating your baby's nursery, there is more to consider than whether to choose animals or sailboats as the theme. While you want the room to be aesthetically pleasing to baby and mom, you also want it to be a haven for your little one. The most adorable furniture and decorations may be safety hazards in disguise, and even beloved hand-me-downs can pose dangers. Here are some tips to baby-proof your child's nursery. (Find a printable nursery safety checklist here.)


Paint

Baby will spend the majority of her time sleeping and playing in the nursery; therefore, you want to ensure the room is as chemical-free as possible. Paint is the biggest potentially dangerous chemical culprit. Though it might cost more, choose paint that is water-based and low in volatile organic compounds (VOCs), which are harmful gases or vapors emitted by various solids or liquids, many of which have short- and long-term adverse health effects. VOCs are harmful for your child and may cause headaches, dizziness, and eye and respiratory tract infections. Another option is to choose a natural paint made from milk, plant dyes or beeswax.

Make sure that the room is well-ventilated during and after painting, and allow 2-3 days of drying time before exposing your child to the room.

Note: Wallpaper and flooring are also possible sources of VOCs. Choose wallpaper that is not vinyl-based, and buy carpeting made from as few synthetic materials as possible.




Crib

The crib is one of the most important investments you will make in your child's nursery, as it is where your baby will spend a large majority of her time. The crib mattress should be cotton- or wool-filled, and that the covering should not be made of PVC (polyvinyl chloride.) PVC has a manufactured plastic smell (like a shower curtain, and contains toxic chemicals that may cause organ damage, cancer, and birth defects.

When it comes to decorating inside the crib, minimalism is key. Do not place anything in the crib besides a mattress (which should be tight-fitting) and a crib sheet. Although you might want to give baby a few friends--stuffed animals and other cute toys--to keep her company in her cribs, these items can be potential suffocation hazards for infants.

In the last 20 years, the number of infant deaths related to suffocation and strangulation have quadrupled, according to researchers at the U.S. Centers for Disease Control and Prevention whose study was published in January 2009 in the journal Pediatrics.

If you are using bumper pads inside the crib, be sure they fit around the whole crib and tie or snap into place. The bumpers should be used until your child can pull herself up to a standing position; after that, they should be removed so that she can't try to climb out of the crib. You child should move to a bed when she reaches 35" in height.

NOTE: While the American Academy of Pediatrics and the United States Consumer Product Safety Commission say crib bumpers are safe if used properly, the Institute of Child Health and Human Development's Back to Sleep SIDS prevention program discourages their use because of suffocation risk.

The location of the crib should also be considered, as placing it too close to another piece of furniture or next to a pull cord (for blinds) raises the risk of injury or strangulation if your child were to climb out of the crib. Make sure that the crib is situated one foot away from all walls, furniture, and pull cords. Never place a crib or any furniture next to or in front of a window.

Checking the structure of your crib is crucial. According to government regulations, the slats of your crib should be no more than 2 3/8" apart, which is roughly the width of a soda can. In addition, corner posts should not extend more than 1/16" above the top of the end panel. Check all of the posts to make sure there are no knobs or decorations that your child could potentially run into or snag her clothing on. Most importantly, always be sure to check the sturdiness of the crib after assembling it, and regularly recheck the tightness of the bolts to make sure nothing has come loose.

The USCPSC discourages used cribs, as they can easily wear and tear over time and can potentially become weakened and hazardous. Older cribs might not meet current safety regulations and voluntary industry standards.




Decor

When decorating the walls of a nursery, lightweight items are best. If you hang artwork, choose pieces made of cloth or other lighter materials. Don't hang mirrors or heavy frames, which have the potential to fall off the wall and cause injury. Mobiles above your child's crib are safe, but only until she is able to pull herself up, which usually occurs around 5 months. Another way to liven up any nursery is to paint fun and colorful pictures on the wall with non-toxic paint or to hang up artwork made by your other children for the new baby.




Changing table

When deciding how to position your changing table, you should first and foremost make sure that all products and supplies (gels, creams, powders, etc.) are kept hidden away and out of the reach of your child. According to the American Association of Poison Control Centers, ingesting cosmetics is the No 1. cause of poisoning in children under the age of 6. While it is tempting to leave supplies out for easy access, children are likely to grab these toxic products and possibly ingest them. Also make sure that the safety strap on the table is secure around your child while changing, and that you keep one hand on your baby at all times to prevent falls.




Baby gates

Although baby gates can prevent stair-related falls and injuries, the gates themselves can be dangerous. Never buy an accordion-style baby gate (these have v-shaped openings along the top and diamond-shaped openings between the bars.) Your child could trap his head in between the diamond-shaped openings and potentially choke. These types of gates have been banned since 1985, but you still run across them at garage sales. An accordion-style gate is acceptable only if the diamond-shaped openings are small (no more than 1 1/2 inches wide,) but your best bet is to purchase a gate with a straight top edge and straight bars. Also, always make sure that your gate is sturdily anchored in the doorway so that your child cannot knock it over.



Toy chests

While a toy chest is a great way to keep toys out of sight, experts recommend that you store your child's toys in a chest without a lid. If you do wish to have a lid, make sure that it has a support that will hold the lid open in any position or a spring-loaded lid. You could also buy a large plastic bin with a detachable lid. In addition, because children like to climb into small spaces, look for one with ventilation holes to prevent suffocation.

By becoming a conscious consumer and being aware of how you arrange your nursery, you can make a difference in your child's well-being and offer yourself some peace of mind. Follow these tips to make your baby's first months of life safe and happy!


General tips:
Place plug protectors in electrical outlets.
Put a working smoke detector inside or just outside baby's room.
Keep all cords (especially drapery and blind cords) out of baby's reach, including baby monitor cords.
Install window guards to keep children from opening or falling out of windows.
Use a safety strap to anchor heavy furniture to the walls.
Keep plastic bags out of baby's room.
Use nightlights that children can't pull out.
Selected sources:
The U.S. Consumer Product Safety Commission
The American Association of Pediatrics
The Home Safety Council