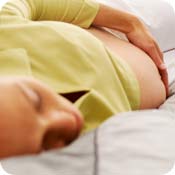 Wouldn't it be great if pregnancy happened when your weight was just right? For most it doesn't work out that way. So, for the rest of us, BabyFit.com is offering this simple guide to weight gain during pregnancy.

During pregnancy it is important to "baby your baby and your body" with nourishing foods. You should not be feeling hungry much during your pregnancy. This is important because low weight gain during pregnancy can result in a low birth-weight infant. Low birth-weight infants have a greater risk of delayed development, disease development and mortality during the first few months of life.

Similarly, if you are overweight, this is NOT the time to crash diet and try to lose weight. Healthy weight gain is mandatory during your pregnancy, and prepares you for the strenuous demands of motherhood. It is also one of the indicators that your child is growing properly and getting the nutrition it needs.

Therefore, recommendations for healthy weight gain during pregnancy have been set based on your weight before you became pregnant.

Total Weight Gain General Guidelines

| | |
| --- | --- |
| Body Type | Target Weight Gain |
| Underweight (BMI under 19.8) | 28-40 Pounds |
| Normal weight (BMI 19.8 - 26.0) | 25-35 Pounds |
| Overweight (BMI 26.0 - 29.0) | 15-25 Pounds |
| Obese (BMI over 29.0) | 15 Pounds |


The table above is indicative of total weight gain. However, patterns of weight gain are as important as total weight gain. Thus it is important to set goals and monitor your progress during the different trimesters.


Weight Change During the First Trimester

During the first trimester it is normal to have any of the following three outcomes:

weight maintenance (0 pounds gained)
a slight weight loss, due to nausea and morning sickness, or
a slight weight gain of 3-6 pounds.
Weight Change During the Second and Third Trimesters

During the second and third trimester you should follow the guidelines below:

Underweight women should gain 1-1 1/2 pounds each week.
Normal weight women should gain an average of 1 pound each week.
Overweight women should gain 2/3-3/4 pound each week.
Obese women should gain 1/2 a pound each week. Individual nutrition counseling is encouraged to assure adequate nutrient intake.
It is strongly encouraged that you discuss any weight gain questions with your doctor. And remember (we can't repeat this enough times) dieting during pregnancy is not a wise idea. However, that does not mean you should not watch your caloric intake and the foods you select. YOU SHOULD! It is important for your baby to get proper nutrition from the foods you eat. So choose wisely.

Find more information on BMI and pregnancy weight gain recommendations here.