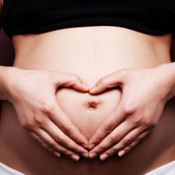 "Babe, I'm pregnant."

"Are you serious?"

This was how I broke the news of my last pregnancy to my husband. Our youngest was only 4 months old, and my husband was due to deploy to Iraq in October 2009. Neither of us was too happy at first, but we both grew to anticipate the arrival of our newest surprise. The shock wore off extremely fast. I was due to deliver Deaglan "Ducky" Micheal on January 12, 2010.

I had a very uneventful pregnancy. We had just moved to a new area, so I had to find a new doctor that would allow me to try another VBAC (I had just delivered my third child in December 2008 by a VBAC.) I chose a midwifery practice that has hospital privileges. I wasn't too keen on the midwife, but she was the ONLY practitioner who allowed mothers to attempt VBACs.

Throughout my pregnancy, my blood pressure was normal, the heartbeat was normal, and I even kept my weight gain in check! I only gained 35 pounds, but I still had 15 pounds left from my previous pregnancy and I was a little overweight before. All was well and I found out in September I was having my fourth boy! One month later, I kissed my husband goodbye as he got on a bus to head to Iraq.

I had had a very fast labor with my third son (my VBAC). My water had broken at 4 a.m., and he was delivered at 9:43 a.m. I knew that this labor would be even faster. I never in a million years would have thought it would be as fast as it was.

On Sunday night, January 3, at 38 weeks and 5 days, my feet were KILLING me! My husband was still deployed, so I grabbed some lotion and started rubbing my own feet. I got up afterwards and put my 1-year-old and my 5-year-old sons to bed for the night. I went upstairs to watch some TV and fell asleep. I woke up around 2:30 a.m. to some contractions that hurt but were not too horrible. I stayed up to time them, but they were sporadic and didn't hurt. I then decided to talk to my husband online before heading back to bed. I went back to sleep around 3 a.m. I am convinced that the foot rub is what caused my labor to begin. I had done the same thing the night before my son Holdyn was born 13 months prior.

At 4:44 a.m., on Monday, January 4, 2010, I woke up to a contraction that brought me to my knees. I woke up SCREAMING! My 5 year old was sleeping on my husband's side of the bed and didn't even flinch. I decided to take a bath to see if they went away. I had one more rough contraction while the water was filling up, but I made it through without a sound. I sat in the water and the minute I touched the water I had an overwhelming urge to push, so I did. I grabbed for my phone, which was next to the tub, and dialed 911.

I felt below to check for head or butt and realized my child was entering this earth still in his amniotic sac--such a rare occurrence! After one more push, my beautiful 7 pound, 6 ounce boy was born on January 4, 2010, at 5:04 a.m. after 10 minute labor!

My children slept through the entire ordeal. I called my neighbor, who came to grab the kids. Less than a minute later, the paramedics arrived in my bathroom!

One minute later, I called my awesome friend, Michelle, who I met here on BabyFit to tell her that I had just delivered in MY bathtub! I swear 3 minutes later, everyone and their cousin knew!

Because I was a VBAC, which in and of itself CAN be (but not always) a little more dangerous, I went to the hospital to get checked out--even though I felt like could have run a marathon! They had to take my son to the hospital due to meconium aspiration. After a few hours of close monitoring, all turned out well.

I called my neighbor and had her shoot off an email to my husband to let him know I had the baby and to call me when he could. About an hour after we got to the hospital, the phone rang, and it was him. He asked how we were doing and this is how it went:

"It was AWESOME giving birth in the bathtub!"

"I thought they wouldn't let you at the hospital." He sounded confused.

"No, babe. In OUR bathtub."

I was smiling from ear to ear! "Are you serious?"

My story has a happy ending: When Deaglan was 6 days old, his Daddy met him for the first time!

Now, because of my birth story, my younger sister, who lives with my mother and is 34 weeks pregnant, is forbidden from taking baths until after her birth! My mother is so afraid that she will give birth in her bathtub!

My younger sister nicknamed the baby "Ducky" due to the circumstances of his birth! It couldn't fit him better.

Like this story?

Join one of these Mommy Teams:

Hoping VBAC

US ARMY MOMMIES

Single Moms, Deployment Style

Do you have a Success Story you'd like us to publish on BabyFit? Send your story, along with a photo of you and your baby, to stepfanie@babyfit.com. Submissions should be 500-1,500 words and will be edited for clarity, grammar and tone.