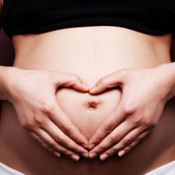 Obesity before pregnancy is a key risk factor for many pregnancy complications, including pre-eclampsia, gestational diabetes, and hypertension. The good news is that regular exercise has been proved to decrease the risk for such complications. A recent study set out to measure the effects of light exercise on sedentary pregnant women, both those who were at a normal weight and those who were obese before conceiving. Half of the women began an exercise program at 20 weeks; the other half continued to be sedentary. The women in the walking program, especially those who were obese, saw favorable results. The study's findings suggest that regular exercise could help ease increases in high blood pressure that women (particularly those who are obese) often experience during pregnancy.

Read more about the study here.

"It's becoming a more serious issue with the increases seen in obesity, so it's very exciting to see some evidence that a low-level walking program can reduce the chance of some of these negative blood pressure changes occurring," BabyFit maternal health expert Cathy Cram says.

BabyFit Tip:
Under the guidance of your health-care provider, consider starting a walking program during pregnancy. Find more pregnancy fitness information and tips here.