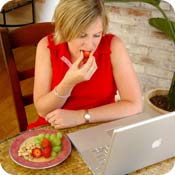 Notice anything different about your favorite website, Moms? As you might have noticed, BabyFit has undergone some changes. Welcome to the new, improved BabyFit.com.

We know, we know. You like routine. You thrive on it. (You are a mom, after all.) Not to worry. Our changes have made BabyFit easier for you to use, and many of the changes actually came from suggestions from members. Take a look at some of the updates we've made.


Improved navigation, including drop-down menus that allow you to get to most any page of the site with one click.
A new and improved nutrition tracker, which can now be easily customized for all stages: trying to conceive, pregnancy and post-pregnancy.
A blog to share updates, stories and other memories with anyone who has access to your BabyPage
Add comments on your friends' blog posts
Upload photos to your blog posts
Tickers and new child icons now display all your children--and their ages
New and additional pregnancy and post-pregnancy articles.
Mommy Team Enhancements: MommyTeam groups now have two standard forums and two additional forums that can be customized by the MommyTeam leaders.
The latest health news related to pregnancy, childbirth, parenthood, and women's health
An improved planner: now you can add birthdays and anniversaries!
Web Search: a customizable page gives you a convenient place to search the Web, check out your local weather, and read updated stories on your favorite topics.
Easily change your program as you transition from pregnancy to bottle or breastfeeding and beyond!
Track individual nutrients and even customize your goals
You'll soon see that much has changed, but the most important things remained the same. BabyFit still offers you something no other site does: Informative articles for every stage of pregnancy and motherhood, a community to meet other mommies like you, and tools to help ease your chaotic life!

Still have questions? We've anticipated several of your most common questions. Find answers here.

Welcome home, BabyFit members!