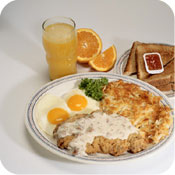 Sometimes, general dining out strategies can only help so much. When you eat at a privately-owned or ethnic restaurant, there's often no pamphlet or website with nutritional information and amenities offered. How do you know what to order, especially when you're bringing children along?

That's why we researched and collected tips for the most popular restaurant cuisines.

This article is part of our BabyFit Family-Friendly Dining Guide. We tried to emphasize kid-friendly foods and health at the same time. As we believe in all things in moderation, you'll find a few indulgences and treats on each of our menus. We also provide pros and cons about this type of cuisine, plus some activities to entertain children at restaurants.

Diners are great family restaurants. Breakfast at any time of day, generous portions, and plenty of action going on all around--kids will love the experience as much as the food. Here's a guide to navigating the menu at a breakfast diner when you take the family out for a meal.

Kid-friendly dishes

Appetizers/Sides
Cottage cheese: Sneak in some calcium!
Fruit cups: When it's cut up in a pretty cup, kids will be more likely to gobble down their fruits.
Side salads: If your kids will eat salads, then by all means, let them start the meal with one.
Entrees
Eggs: any way they like them, plus potatoes, toast and breakfast meat. When breakfast is served at night, kids feel like they're getting a real treat!
Pancakes and waffles: Go easy on the syrup and whipped cream, heavy on the fruit
Grilled cheese: What kid can resist one?
Oatmeal and fruit: Healthy, but still delicious and good for even the littlest ones.
Treats
A slice of pie: Apple and blueberry are good choices.
Ice cream or a kid-sized milkshake: Ask them to use low-fat milk.
Fruit: A healthy ending to the meal!
Thumbs-up
Breakfast is a hit with kids any time of day.

Healthy options are available, including oatmeal, fruit, and whole-wheat toast.
Thumbs-down
Diner food tends to be greasy and a bit heavy.
Potato dishes such as home fries and hash browns are pretty much glorified French fries. Opt for whole-wheat toast instead of potatoes.
Pancakes and waffles can quickly morph from a meal into a dessert.
Table talk

Diners usually keep the menus on the table. Turn the menus into an activity book for grade-school kids. Ask them to look for foods they don't recognize, then talk about them. Or ask them to try to add up how much the meal will cost. Find the cheapest and most expensive items, and ask older kids to look for misspelled words! Quite common on menus!

Note: Pregnant women should avoid eating deli and processed meats, soft cheeses, and some types of seafood due to the risk of illness to herself and her unborn child. Eating raw or undercooked meat, poultry or seafood also poses health risks. Find more information on which foods to avoid here.