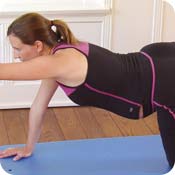 When you work out during pregnancy, baby is getting more than a bumpy ride inside your belly. New research suggests that exercise benefits baby's body as well as mom's.

From the NYT's Well blog:


"For the study, which was presented on Sunday at the Experimental Biology 2011 meeting in Washington, researchers from the Kansas City University of Medicine and Biosciences revisited a group of 61 healthy women, ages 20 to 35, who'd been part of a pilot study of exercise, pregnancy and fetal heart health. About half of the women had exercised regularly during their pregnancies, jogging, power-walking or otherwise working out at a moderate pace at least three times a week. Some also had lifted light weights or practiced yoga. But their primary activity had been aerobic. The other half of the mothers-to-be "were normally active but did not engage in formal exercise," said Linda E. May, an exercise physiologist who led the study."


BabyFit Tip: Use our site under the supervision of your health-care provider to improve yours and baby's health and fitness. BabyFit was "born" after two of our founding moms delivered healthy, happy babies after picture-perfect pregnancies--which they and their doctors attributed to their nutritious diets and regular but modified workouts.

Find exercise demos, videos, and more in our Pregnancy Fitness Resource Center.

Did you know? Exercise during pregnancy also can help with high blood pressure.