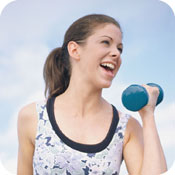 That new bundle of joy can make dramatic changes in your life. The vast majority of changes are worth it, but some make it hard to keep up with the important things like regular exercise and adequate sleep.

You're not alone. Just about every woman, at one time or another, has struggled with exercise after pregnancy. Here are some ideas to help you get back into exercising and get back into shape!

Make exercise a priority
Not only is your body sleep deprived, but it has also just gone through intense labor which requires healing. You find yourself watching the dust, dishes, and laundry pile up while you tend to your little one. Feel like exercising? Probably not! However, exercising can be the energizer you need to get more motivation. Make it a priority.

Baby steps
Start out slow. Within the first 6 weeks after delivering your baby, your body is healing and requires extra time to get back into shape. Taking care of your baby and managing the basic housework is enough exercise for you now. Be sure to discuss postpartum precautions and limitations with your doctor.

Be creative
Once cabin fever has set in and your body feels up to it, head to a mall and enjoy some cardiovascular exercise: mall walking style. Set a goal to walk for a certain number of minutes before you go. Don't over do it. If you get tired, sit and rest on one of the mall benches. If the weather is nice, opt for a walk in the park or through your neighborhood.

Exercise time doesn't have to be separate from baby time. Let your baby watch you exercise. Place him or her in a bouncy seat or swing while you do your favorite exercise tape, perform sit ups and other exercises on a large exercise ball, or run on a treadmill. Some days just playing and carrying your baby can be a good workout in itself!

Get by with a little help from your friends
Exercise with a friend or relative, or another new mom. Having someone to exercise with is a big motivator. Plan on a day and time to meet and stick with it. It's amazing how time flies when you're walking with a friend and chatting about baby stuff. Join a fitness center and enroll in classes or contact a local mom's club if you have trouble scheduling times with friends.

You can also get online and chat with other new moms. Find somebody interested in exercising and keep in contact with her each week. Motivate and encourage each other. Having a friend to set exercise goals with will help you succeed and stay motivated.

You can do it, mom!
By staying fit, you will be able to keep up with your little one's activeness. You will have more energy to play with your baby. Keep in contact with other new moms to share your stories and keep each other motivated. Stay in shape and enjoy every moment of motherhood.