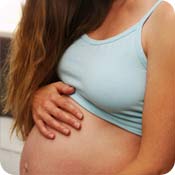 If you're trying to conceive and want a son, put down the low-fat frozen yogurt, grab a pint of Chunky Monkey, and be sure to eat a hearty breakfast every day. But, if a girl is what your heart desires, then maybe you should skip dessert and watch your portions.

In a twist on the old adage, "You are what you eat," researchers in England are saying that your child's gender might be determined by what you eat before you get pregnant.

According to experts from the University of Exeter and the University of Oxford, women who ate more calories when trying to get pregnant were more likely to give birth to a son. Women who ate about 2,200 calories a day were 1.5 times more likely to have a son than those who ate fewer than 1,850 calories a day. They studied more than 700 first-time moms in the United Kingdom who did not know the sex of their babies, and the women were asked to share detailed food logs from before pregnancy and the first two trimesters. No correlation between pregnancy nutrition and sex were identified, but there was a correlation between preconception nutrition and sex.

The study also found that women who ate breakfast cereal regularly were about 1.9 times more likely to have a boy than those who did not consume them. (There's another reason to eat your Wheaties or have another bowl of Cheerios!) Women who ate high levels of potassium, calcium and vitamins C, E and B12 were also more likely to give birth to males.

The researchers found an average difference of 130 calories per day between the mothers of boys and girls, which they say could explain the declining number of males being born in industrialized countries (including the U.S., Canada and the United Kingdom) over the last 40 years. Despite an obesity epidemic in the U.S. and other countries, many young women choose to eat low-calorie foods, and many adults opt to skip breakfast, according to the researchers.

The researchers admit that the study is provocative and that it is only preliminary evidence. Whether it's true or not, it certainly adds credence to old wives tales!

What do you think? Do the study's findings correlate with your own pre-pregnancy food intake? Or do you think it's just a coincidence? Discuss this and more on the Message Boards.