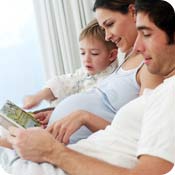 Get active! Think you don't have time to exercise? Here?s your opportunity!
Make it a family event! Take the kids out for a walk, ride bikes, learn a new sport, go canoeing, etc.
Read a book or magazine
Go to bed earlier and get your recommended 7-8 hours of sleep
Start that new hobby you've been wanting to try
Cook dinner for your family and enjoy it together at the table
Volunteer at your local church or community center
Start a vegetable garden or plant flowers
Take a class- drawing, woodworking, sewing- whatever interests you
Take a trip to the grocery store. Without the usual rush, take the time to compare labels, find new foods, and stock up on fresh fruits, veggies and healthy snacks.
Write a letter to someone you haven't seen in awhile
Spend more time with your pet! Go for a walk or play a game of Frisbee.
Prepare healthy bag lunches for the family.
The possibilities are endless! Do you think you could give it a try, just for one week? According to a follow-up survey, 80% of TV-Turnoff participants said they altered their viewing habits and now watch less TV. You'll be amazed how a little less TV can have a big impact on you and your family.

For more information on TV-Turnoff Week, visit: www.TVTurnOff.org