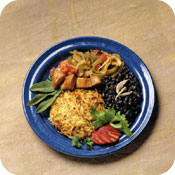 Sometimes, general dining out strategies can only help so much. When you eat at a privately-owned or ethnic restaurant, there's often no pamphlet or website with nutritional information and amenities offered. How do you know what to order, especially when you're bringing children along?

That's why we researched and collected tips for the most popular restaurant cuisines.

This article is part of our BabyFit Family-Friendly Dining Guide. We tried to emphasize kid-friendly foods and health at the same time. As we believe in all things in moderation, you'll find a few indulgences and treats on each of our menus. We also provide pros and cons about this type of cuisine, plus some activities to entertain children at restaurants.

With brightly colored curries and a rainbow of vegetables, Thai food will certainly pique the interest of kids.

Kid-friendly dishes

Appetizers/Sides
Spring rolls: These are like egg rolls, but they're made with rice paper wrappers. Chop them up for little ones; they'll be eating vegetables in no time! They're often served with a sweet and sour sauce.
Chicken satay: These are Thai-style chicken kebabs. Remove skewers from chicken so kids can dunk it in a sweet peanut sauce.
Entrees
Pad thai: Noodles are combined with egg, vegetables and chopped peanuts for a very mild dish.
Holy basil chicken: The name will amuse them; the lean chicken, veggies and mild basil sauce will be a new favorite!
Green or yellow curry: Curries usually have meat or seafood with plenty of vegetables and a spicy sauce. They are served with rice. These aren't as hot as red curry. Simply pick a protein and ask for a mild spice level.
Thumbs-up
There are vegetables aplenty in Thai cuisine, and the meat is usually very lean.
Entrees are often served family style, which makes it easy to share.
Thumbs-down
Curries can be a bit spicy. Ask for mild versions.
Curries can also be high in sugar. Ask the kitchen to skimp on the sugar, if possible.
Table talk
Thailand is a country where it's hot year-round. Talk to your kids about what they'd miss most about winter if they lived there. Or ask them what they'd like to do in the year-round summer.

Note: Pregnant women should avoid eating deli and processed meats, soft cheeses, and some types of seafood due to the risk of illness to herself and her unborn child. Eating raw or undercooked meat, poultry or seafood also poses health risks. Find more information on which foods to avoid here.