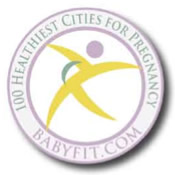 Lincoln, Nebraska is the tenth healthiest city for pregnancy according to BabyFit.com's list of Top 100 Cities for Healthy Pregnancies.

Learning of her city's top 10 recognition, Lincoln Mayor, Coleen Seng said, "This recognition by BabyFit.com is due to the hard work of many agencies and organizations in Lincoln who have made healthy mothers and babies a priority. Every year, the Lincoln-Lancaster County Health Department works with nearly 1,000 pregnant women who are at-risk due to poverty, language barriers or other health issues to ensure that they have access to health care. We have physicians, health care providers and a federally qualified health center all working together to provide preventive health care for pregnant women. Many Lincoln employers also are recognizing the important role they can play in healthy pregnancies by providing health resources, including lactation rooms at their workplaces. In Lincoln, healthy moms and babies are truly a community effort."

Lincoln placed in the top five for the category for "percentage of women in the optimal age range for a healthy pregnancy" and scored in the top 30 for two other healthy pregnancy indicators including the smallest percentage of women receiving late or no prenatal care and women with the lowest levels of stress.

This is not the first time Lincoln has been honored. Among its numerous honors, in 2005 Lincoln was #7 on the list of "Best Small Places for Business & Careers" by Forbes.com. Additionally, an article published by Child Magazine named the city #20 out of 100 "Best Cities for Families."

Return to the full list of the Top 100 Cities for Healthy Pregnancies.