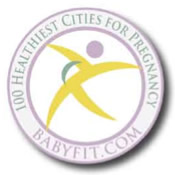 San Francisco, California is the sixteenth healthiest city for pregnancy according to BabyFit.com's list of Top 100 Cities for Healthy Pregnancies.

San Francisco placed in the top ten for the healthy pregnancy indicator of the smallest percentage of mothers who use any tobacco during their pregnancy. Additionally, the city placed in the top forty for the largest percentage of expecting mothers who receive prenatal care during the first trimester.

This is not the first time San Francisco has been honored. Among its numerous awards, in 2005 San Francisco was ranked at #3 in Forbes.com's list of "Best Places for Singles." San Francisco was again honored in 2005 by Mercer Consulting as the "Safest American City in the World."

Return to the full list of the Top 100 Cities for Healthy Pregnancies.