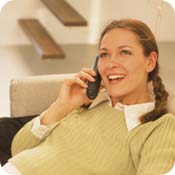 If you are like many women, you'll probably have a good idea when it's time to stop working, either because your doctor has advised you to do so, or simply because you are too exhausted to continue! There are, however, some specific guidelines that can help you decide.

According the American Medical Association, if your job requires you spend more than 4 hours a day on your feet, consider stopping or switching to a desk job, beginning in your 24th week of pregnancy. If your job requires spending more than 30 minutes out of every hour on your feet, consider shifting to more sedentary work tasks by week 32.

Additionally, some medical experts suggest that if your job involves rigorous and constant heavy lifting, climbing, pulling, pushing, or bending below the waist, you should stop work by week 20. If these activities are considered moderate-meaning you don't do them all day long and you have sufficient rest periods-then you can safely continue working until about the 28th week of your pregnancy.

The one caveat: Consider stopping work soon after conception if you have a history of premature birth or miscarriage, or if you are expecting twins, triplets or quadruplets. You should also consider cutting your work hours early on if you are diagnosed with gestational diabetes or high blood pressure.

Most importantly, listen to your doctor and take his or her recommendations concerning how long you should continue working, as well as the level of work you can safely perform during each of your trimesters.

You might also want to consider the distance from you job to your home, or more importantly to your doctor's office or the hospital where you plan to deliver your baby. If you do commute long distances, or that commute is very time consuming due to heavy traffic patterns, then these factors should figure into your decision about when to stop working as well.

In terms of returning to work after baby is born, much of your decision may be mandated by how you feel, and the health of your baby. Assuming you are both fine (and the vast majority of new mothers and new babies are!), then returning to work becomes strictly a personal choice.

So whether you take the full three months leave, less, or more, remember that many of the same workplace precautions apply as when you were pregnant. Avoid fatigue by napping whenever possible; try to arrange to do some of your work at home; and whenever possible, work part-time, or push for a flexible work schedule. Above all, make certain that your spouse understands that it may take you a while to get back in the swing of a regular work routine at the same time you are still learning to be a new mom. In this respect, don't be afraid to enlist his help with household and baby chores.