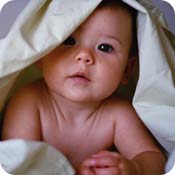 It's gift registry time! This can be one of the most fun times of your pregnancy. Use this list as a guide to make sure you don't forget any important items. You definitely don't need every item on this list-the love and care you give your child is more important to your baby's development than anything here. But when you have family and friends eager to contribute, a detailed registry helps them buy things you can use.

Clothing Your Baby

Onesies
Sleepers and/or gowns
Socks
Hats
Sweaters
Snowsuit bag
Bathing Your Baby
Baby tub
Baby toiletries
Baby washcloths
Baby bath towels
Carrying Your Baby
Front carrier, sling, and/or backpack
Breastfeeding Your Baby
Boppy (or other nursing pillow) and cover
Breast pump
Breast milk storage and feeding set
Insulated carrying case for transporting milk safely
Bottle-Feeding Your Baby
Bottles
Assorted nipples
Utensils for formula preparation
Sterilizer, if recommended
Formula
Bottle and nipple brush
Feeding Your Baby
Highchair
Bibs
Baby utensils
Food mill, for grinding up food for baby
Plates and bowls
Stimulating Your Baby
Board books
Gymini
Soft blocks
Rattles
Teething rings
Puzzles
Soothing Your Baby
Receiving blankets (for swaddling)
Pacifiers
Music CDs
Swing
Taking Your Baby Places
Diaper bag
Wipes carrying case
Car seat
Stroller
Exercising with Your Baby
Jogging stroller
Gift certificates for mom and baby yoga or stroller fitness classes (Stroller Strides, etc.)
Diapering Your Baby
Diaper pail
Changing table or changing pad
Cloth-Diapering Your Baby
Most retail baby stores do not carry a good selection of cloth diapering supplies. If you want to register for these items, many online stores have virtual registries.
Cloth diapers
Cloth wipes
Wet bag (for carrying wet diapers in your diaper bag)
Waterproof diaper covers
Pins, "snappi," or other diaper fastener (if your diapers don't have snaps or Velcro)
Disposable-Diapering Your Baby
Disposable diapers
Disposable wipes
Wipes warmer
Diaper rash cream
Putting Your Baby to Bed
Co-sleeper and/or bed rails (if you plan to co-sleep)
Crib
Sheets and accessories for co-sleeper and/or crib
Portable crib
Waterproof crib pads
Baby-Proofing Supplies
Although you won't need this stuff right away, it's a good idea to baby-proof before baby is mobile, so you don't have to go rushing around at the last minute.
Outlet covers
Baby gates
Door latches
Toilet latch
Non-slip tub mat
Padding for sharp table edges
Doorknob guards
Stove knob guards
For Mom
Belly casting kit
Nursing tops (for breastfeeding moms)
Some women choose to hire a Doula (a professional labor assistant) to increase their chances of a smooth delivery. If you'd like to hire a doula, but can't afford it, consider adding requests for contributions to your registry.
For the To-Be Parents
Parenting books
Child development books
Magazine subscriptions