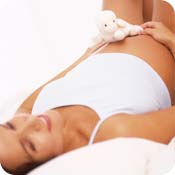 If you're like most women, the moment you discover you're pregnant, your whole world turns upside down! But while all eyes remain focused on baby, sometimes you may begin to feel that you—and your needs—are fading into the background. You might even feel a little guilty about wanting some special attention at this time.

The good news: You don't have to feel selfish—or guilty—about wanting that little extra bit of attention! In fact, if ever there was a time when a woman deserves to be pampered, it's during pregnancy! If you're a working gal, and especially if you are already caring for one, two or more little ones at home, then you deserve a break even more.

And the good news is, studies show that stealing even just 10 to 20 minutes a day just for yourself will not only help relieve your stress and tension, but also help ensure your baby is happier and healthier as well.

To help set you in the right "diva direction" here are some tips that can help. They're quick, easy and I promise will go a long way in soothing your body, mind and your spirit!
Revel in a lavender foot soak! Fill a small plastic basin with warm water to which you add up to 5 drops of essential oil of lavender. Immerse both feet and soak for ten minutes. Studies conducted at the Nagano College of Nursing showed that just one 10-minute soak not only increases circulation to legs and feet, but also brings about measurable changes in the autonomic nervous system—the area of the brain that controls stress and anxiety.


To soothe sore, swollen, tender tootsies, fill a 16-ounce soda bottle with water and put it in the freezer. After it's frozen, place on the floor and roll your foot back and forth over the bottle to relieve aches and spasms.


To safely soothe dry pregnancy skin, try this Sweet Spot Honey Moisturizer: Mix 1 teaspoon of honey with 1 teaspoon of vegetable oil and 1 teaspoon of lemon juice. Rub into hands, elbows, heels, and anywhere that feels dry. Leave on for ten minutes; rinse with warm water.


For a relaxing aromatherapy bath, combine 2 drops each of oil of neroli, lavender and lemon, with 6 teaspoons of apricot kernel or sweet almond oil. Add to a warm tub and soak away your worries! Caution: Ideally, bath water during pregnancy should be no hotter than 100 degrees. If you like it warmer—up to 102 degrees—don't soak for longer than 10 minutes.

Continued ›