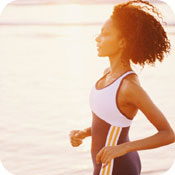 If you have trouble getting out the door regularly, commit to doing a race even if you don't want to run it competitively. Sometimes a local 5K or 10K race is the ideal place for this. The distance doesn't dictate extensive training. They don't take a lot of time out of your day. They usually benefit a charity and they're generally a lot of fun to be around.

For those I coach, I write down a training schedule that takes them up to the date of that race. It's so nice to have a plan that guarantees that they will be able to run a good race. Consequently, most people follow the schedule religiously.

Racing can further motivate you by providing a personal athletic challenge. Crossing a finish line is exciting. Finishing your second race faster than your first is even more "breathtaking." It's very easy to get caught up in the joy of accomplishment, and as long as your goals are realistic, you can continue to improve in so many ways.

YOU ARE A BEAUTIFUL ATHLETE
During high school and college, some of us didn't have the opportunity or the encouragement to play various sports. One of the great things about racing is that athletes like you can do it no matter your size, shape or ability.

You get to line up at the starting line with the very finest in the sport and you don't need to be a speedster to race competitively. Just having the courage to start is a good beginning. If you have trained well and perform your very best that day, then you are a beautiful and passionate athlete.

CONFIDENCE
When you are an athlete, there is a certain sense of confidence and self-esteem that you acquire and build. There is accomplishment, most certainly, in simply running. But when you add racing to the mix, train hard and challenge yourself to go beyond where you thought you could go, you feel a greater sense of achievement. It's quite meaningful to discover how much you can do just for YOU.

A WINNER
In the end, winning really isn't about crossing that finish line first. I love to stand on a finish line and watch the faces of every runner and walker who comes across. Whether someone comes in first, fifth or 50th, there is a certain look on their face. I don't mean that somewhat painful expression: it's more of a joyful "I-Did-It" look.

You see, anyone who crosses a finish line always wins because winning could be finishing, or maybe it's beating your next door neighbor, or setting a personal best time, or having the courage to begin the race itself. There are as many reasons as runners. What's yours?