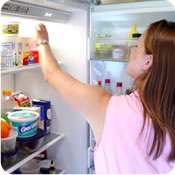 During pregnancy, a healthy weight gain is not only important for your baby's development, but it's also important for your health too. Because every woman is unique, it is important that you talk with your doctor about the weight gain range that is right for you. For some women, gaining a healthy amount of weight during pregnancy is difficult. This can be due to many reasons, including nausea, lack of appetite or hunger, feelings of fullness, a speedy metabolism, or even fears of gaining too much weight.

If you're having troubling gaining a healthy amount of weight, you may need a referral to see a dietitian in your area for a complete nutritional assessment and evaluation. In addition, try the following tips to help you pack on the right number of pounds.

Tips for Weight Gain:

Eat 5-6 small, frequent meals each day.
Drink high-calorie, nutritious liquids if you are not hungry.
Limit the use of diet, low calorie, low-fat products.
Have ready-to-eat snacks available to munch on when you feel hungry. Easy to fix snacks include trail mix, pretzels and dip, nuts, dried fruit, crackers and cheese, frozen yogurt and ice cream, pudding, and fruit smoothies.
When you drink beverages, make certain they are nutrient-rich. Limit diet drinks, tea and coffee. Enjoy juice, milk, smoothies, or milkshakes.
Try "super-strength milk" for extra calories and protein. Simply mix together 1 quart of milk and 1 cup of instant non-fat dry milk powder. Stir until the dry milk is dissolved, about 5 minutes. Store this beverage in your refrigerator and use it just like regular milk. Makes 1 quart.
To Increase Protein:
Mix dry powdered milk into mashed potatoes, ground meat, cream soup, pudding, casseroles, hot cereal, or milk.
Add an additional egg to casseroles and ground meat prior to cooking.
Top vegetables, potatoes, casseroles, soups, sandwiches and salads with cheese.
Use milk instead of water when cooking hot cereals, cream soups, hot chocolate mix, and gravy.
Spread peanut butter on crackers, apples, bananas, pears, or celery.
Snack on nuts, cheese, yogurt, chicken or tuna salad, and cottage cheese.
To Increase Calories:
Add extra butter, margarine, oil, regular salad dressing and mayonnaise to foods such as potatoes, vegetables, bread & rolls, hot cereal, salad, pasta, rice, noodles, and sandwiches.
Top vegetables and meats with sauces, gravy, or cheese.
Add extra sugar or honey to cereals and beverages.
Add sour cream, cream cheese or whipped cream to your favorite recipes, such as potatoes, bagels, or drinks.
Toss some nuts and seeds into vegetables, salad, trail mix and cereals.
Snack on fresh fruit.
Good Things Come in Small Packages. These foods are high in both protein and calories:

Continued ›