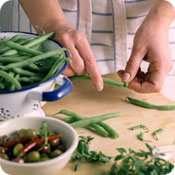 Sometimes, general dining out strategies can only help so much. When you eat at a privately-owned or ethnic restaurant, there's often no pamphlet or website with nutritional information and amenities offered. How do you know what to order, especially when you're bringing children along?

That's why we researched and collected tips for the most popular restaurant cuisines.

This article is part of our BabyFit Family-Friendly Dining Guide. We tried to emphasize kid-friendly foods and health at the same time. As we believe in all things in moderation, you'll find a few indulgences and treats on each of our menus. We also provide pros and cons about this type of cuisine, plus some activities to entertain children at restaurants.

Don't be intimidated by the unfamiliar smells and spices of Indian food. After all, Indian kids eat it all the time! There are plenty of mild and interesting dishes for the not-so-adventurous eater, too.

Kid-friendly dishes

Appetizers
Samosas: Mashed potatoes, onions and peas are wrapped in dough and fried.
Naan: Think of this flatbread as Indian pita bread.
Lentil soup: This mild, pureed soup is full of hidden vegetables.
Raita: Plain yogurt mixed with mint, cucumbers and other spices. Keep some around in case your entree is too spicy. It will soothe fiery mouths.
Entrees
Dal makhani: Lentils cooked with onions, tomatoes and cream are soft and mild enough for little ones.
Tandoori chicken: Chicken is marinated in yogurt and spices, then cooked in a traditional clay oven, or tandoori.
Vegetable biryani: Rice is spruced up with nuts, dried berries and vegetables.
Mild chicken curry: Curry is spicy, but it doesn't have to be hot. Introduce kids to a very mild curry.
Treats
Lassi: A yogurt and fruit drink, like a smoothie.
Kheer: A rice pudding made with coconut milk, raisins and nuts.
Thumbs-up
Indian food, like Chinese food, is served family style, so you can feed a family of four on two entrees.
Indian food has plenty of dishes that use vegetables or beans as a main ingredient.
Thumbs-down
Many sauces contain butter and cream, which aren't very healthy.
Some dishes are too spicy for children. But the good news is that most can be made mild enough for children upon request.
Curry, a common ingredient in Indian cooking, has a pungent smell. Children might not like the way an Indian restaurant smells.
Table talk
Tell kids you're on a flavor adventure. Introduce them to Indian food by visiting a buffet restaurant. Explain what each food is, and keep a menu handy to help you.

Note: Pregnant women should avoid eating deli and processed meats, soft cheeses, and some types of seafood due to the risk of illness to herself and her unborn child. Eating raw or undercooked meat, poultry or seafood also poses health risks. Find more information on which foods to avoid here.