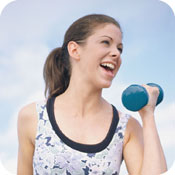 I needed to get a social life. This revelation hit me late on a Friday night when I realized I had spent another evening knee-deep in laundry when I really wanted to be out having some fun. Busy with work and family, I hadn't seen my girlfriends for weeks. I was so overwhelmed with housework and children's activities that I couldn't remember the last time I had picked up the phone just to chat. That was going to change.

My friends are all as time-starved as I am though, so getting together was going to take some creativity. Since women are born to multitask, combining social time with exercise seemed like a natural fit, so I decided to throw a fitness party-I'd bring the fitness and the fun right to my own living room. But where to start?

My stack of yoga DVDs was gathering dust and I was anxious to try something new. If each guest brought one exercise video to the fitness party, we could hold a swap, so each woman would get a new workout routine without shelling out any cash for new videos. (I'm all for saving money as much as possible.)

So I dug out some old Jane Fonda tapes that I'd never had the heart to throw away and decided it was finally time to say goodbye to the 80's forever-someone else could enjoy them now. The routines were retro, but they would be good for a laugh at the very least. All that hair! All that spandex!

But I didn't want us to spend the whole evening in front of the TV. I was dying to try belly dancing, but even though I hadn't worked up the nerve to join a class, I'd feel more comfortable shaking my hips with my friends than with strangers. So I contacted the instructor from my gym and made arrangements for a private demonstration the night of the party. This way, we could all shimmy to our hearts' content and not have to worry about looking out of place. Look out, Shakira!

A party's not a party without food and being the magazine junkie that I am, I had stacks of healthy recipes at my fingertips. I decided to continue the Eastern theme with a menu of exotic foods like mango, persimmons and guava-things I'd always seen at the grocery store but had never tried. I added a curried chicken dish and brown rice to round out the meal and made sure I had lots of fresh vegetables and low-fat dip to munch on too. I even pulled out my blender so we could make protein-rich smoothies, which are just as tasty as Pina Coladas-but without all the empty alcohol calories.

Continued ›