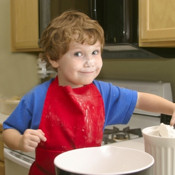 We all know how important it is to prepare nutritious food for our children. But did you know it's equally as important that we teach our children how to prepare nutritious food for themselves?

Think about it.

When children grow into adulthood, they eventually have to rely on themselves for everything, including feeding. Without cooking skills, I bet you can take a wild guess at where they tend to end up when they're hungry! (Hint: Grease-stained brown paper bags.)

Knowing how to cook wholesome food is a great way to combat obesity, lifestyle diseases and unhealthy habits. Start bringing the kids into the kitchen at a young age, and they learn early on that food is supposed to be healthful--and made at home.

That's easier said than done.

Children and kitchens seem to be as good of a match as oil and water, but the only way they'll learn to cook is by joining you in the kitchen, moms.

It will test your patience. It will be messy. And you will want to send them to watch TV while you finish making dinner.

The good news is that the younger you bring them in the kitchen, the better they'll get, or at least the more practice you'll get in the fine art of patience.

Between the spills, the 20,000 questions, and the bickering about who gets to crack the egg, it seems like cooking with little chefs can take hours. However, taking time to work with your kids, even with your busy schedule, can help ensure they live the healthiest lives possible.

Studies have shown that kids who help cook are more likely to try new foods--usually healthier ones. Letting children be in control of a part of the meal, even by allowing them to choose whether you eat carrots or peas for dinner, can help reduce squabbles over eating healthful foods.

Making small changes in your cooking routine and trying kid-friendly recipes helps you work little ones into your dinner prep. Before diving into the tips and tricks of the trade, brush up on your kitchen safety.
Always wash hands before cooking and after handling raw meat, eggs, or poultry. This is a great time to teach your kids about food safety! Never use the same knife, plate or utensil on raw and cooked food, and use one cutting board for meat and another for vegetables. Use a clean spoon or fork each time you taste a dish, and never stick your fingers in food you'll be serving to others.

Continued ›