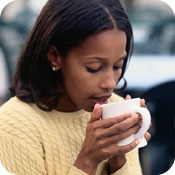 Caffeine is a stimulant that is found in many foods and beverages such as coffee, tea, cocoa, chocolate, and soft drinks. Although caffeine may provide you with your morning boost, it also quickly passes through the placenta to the baby. Animal studies have shown a connection between caffeine intake and birth defects.

However, human studies have been inconclusive. The Food and Drug Administration and most health organizations recommend that pregnant women should discontinue or at least cut down on caffeine. It is okay for pregnant women to wake up and enjoy the coffee. However, a reasonable guideline for daily intake of caffeine is no more that 300 milligrams per day or 2-3 servings. The chart below shows the approximate caffeine content of various foods and beverages.

One study in early 2008, suggests that 200 milligrams of caffeine daily may be too much: Caffeine Linked to Miscarriage. Please discuss your habits with your health care provider.

| | |
| --- | --- |
| Food Item | Milligrams of Caffeine |
| Coffee, Brewed, 8 oz. | 65-135 |
| Coffee, Instant, 8 oz. | 60-100 |
| Tea, Brewed, 8 oz. | 20-110 |
| Tea, Instant, 8 oz. | 20-30 |
| Iced Tea, 8 oz. | 10-50 |
| Mountain Dew, 1 can | 55 |
| Pepsi, Diet Pepsi, 1 can | 37 |
| Coke, Diet Coke, 1 can | 31 |
| Chocolate Milk, 8 oz. | 2-8 |
| Milk Chocolate, 1 oz. | 1-15 |
| Chocolate Chips, ¼ cup | 26 |
| Chocolate Ice Cream, ½ cup | 4-5 |